This hamburger casserole is a delicious family feast or potluck addition that everyone loves. It's loaded with beef, cheese, BBQ sauce, mushrooms, and of course, pasta. It all comes together to create an easy dish that will satisfy even the heartiest eaters.
I love making casseroles. They make perfect family meals for busy weeknights and great dishes to bring to potluck dinners. The recipe doubles and triples easily. Creamy cheeseburger casserole is also easy to reheat, which makes them amazing leftovers, too. If you kids, it's even better because they and their friends can power it down for an after school snack. This particular casserole is one of my favorites because it boasts a TON of flavor, but it's just as easy to make as any other casserole.
Why You'll Love This Recipe
It's so flavorful and super easy to make.
Ground beef and noodles are classic casserole ingredients.
It makes a great family dinner or potluck dish.
Everyone loves the combination of beef, cheese, and noodles.
Ingredients
It only takes a handful of ingredients to make this delicious hamburger casserole. You probably have most of them in your kitchen already, and the ones you don't have are easily found at your local grocery store.
Penne pasta
Ground beef, or any ground meat of choice will work
Tomato soup
Mushroom soup
BBQ sauce
Ketchup
Garlic
Shredded cheese
See the recipe card at the end of the post for exact quantities to make this hamburger casserole.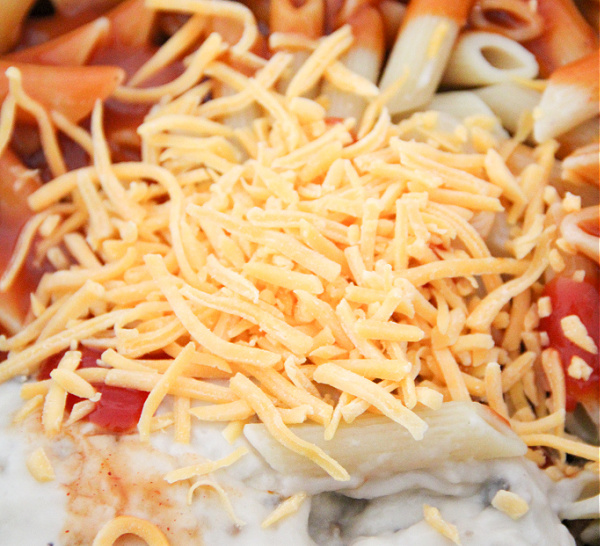 Instructions
Making this creamy beef casserole couldn't be easier. It only takes a few minutes and a few simple steps, and you'll have yourself a casserole that everyone will devour. I've included the highlights below. Find the full instructions in the recipe card at the end of the post. Here's a quick glance of how to make this scrumptious meal.
Cook pasta according to the package directions and drain.
Cook meat in large skillet or pan.
Add the remaining ingredients, reserving half the shredded cheese.
Pour into a 9 x 13 baking dish, top with the remaining cheese, cover with foil that's been sprayed with cooking spray, and bake for 20 minutes. Then, remove the foil and continue baking until the cheese is browned.
Substitutions and Variations
You can use ground turkey, chicken, Italian sausage, veggie crumbles, or even chorizo in place of ground beef for different flavor combos.
Any kind of short pasta will work if you don't have penne
Add cayenne or red pepper flakes for an extra kick of heat and flavor.
Diced onions work well in this recipe. Add them to the beef while browning.
If you love easy cheesy casseroles like this, then I think you'll enjoy this simple chicken noodle casserole.
Equipment
Measuring cup and spoons
Pot
9×13 baking dish
Wooden spoon
Foil
Storage
Refrigerator: Store leftovers covered in the refrigerator for up to 3 days.
Freezer: Freeze in an air-tight, freezer-safe container for up to 3 months.
Reheat: Place the casserole in a dish with a bit of water, cover, and bake for 20 minutes at 350 degrees or until warmed through.
Make Ahead: This casserole reheats very well, so you can make it up to a day in advance if you like. Then, pop it in the oven and heat it up when ready to serve.
What to Serve with Hamburger Casserole
This delicious creamy beef casserole is perfect with garlic bread or classic cucumber salad. And while it's a full meal all on its own, you can make it even more hearty with these sides and desserts.
Tips
Only cook the pasta to al dente. You want it firm to stand up to baking.
Mix your casserole very well to ensure all ingredients are fully incorporated.
It's important to cover the casserole with foil so the cheese doesn't burn.
FAQ
What is a casserole?
A casserole is any dish combining meat with vegetables, sauce, noodles, cheese, or a variety of these ingredients and baked in the oven.
Who invented casserole?
No one knows exactly who invented the casserole. Most food historians believe that no one person can lay claim to it because they've been around for so long. The oldest written casserole recipe is one for macaroni and cheese from 1250. Historically casseroles have been an excellent way to make use of leftover foods.
Why are my casserole noodles falling apart?
If you overcook your noodles, they'll be too soft to stand up to mixing and baking. You'll end up with mush rather than nice noodles in your casserole.
Why is my beef casserole greasy?
It's important to drain your beef after browning it to ensure that you don't end up with a greasy casserole.
More Delicious Casserole Recipes
If you think this recipe sounds good, then I think you're going to love the rest of these delicious casserole creations.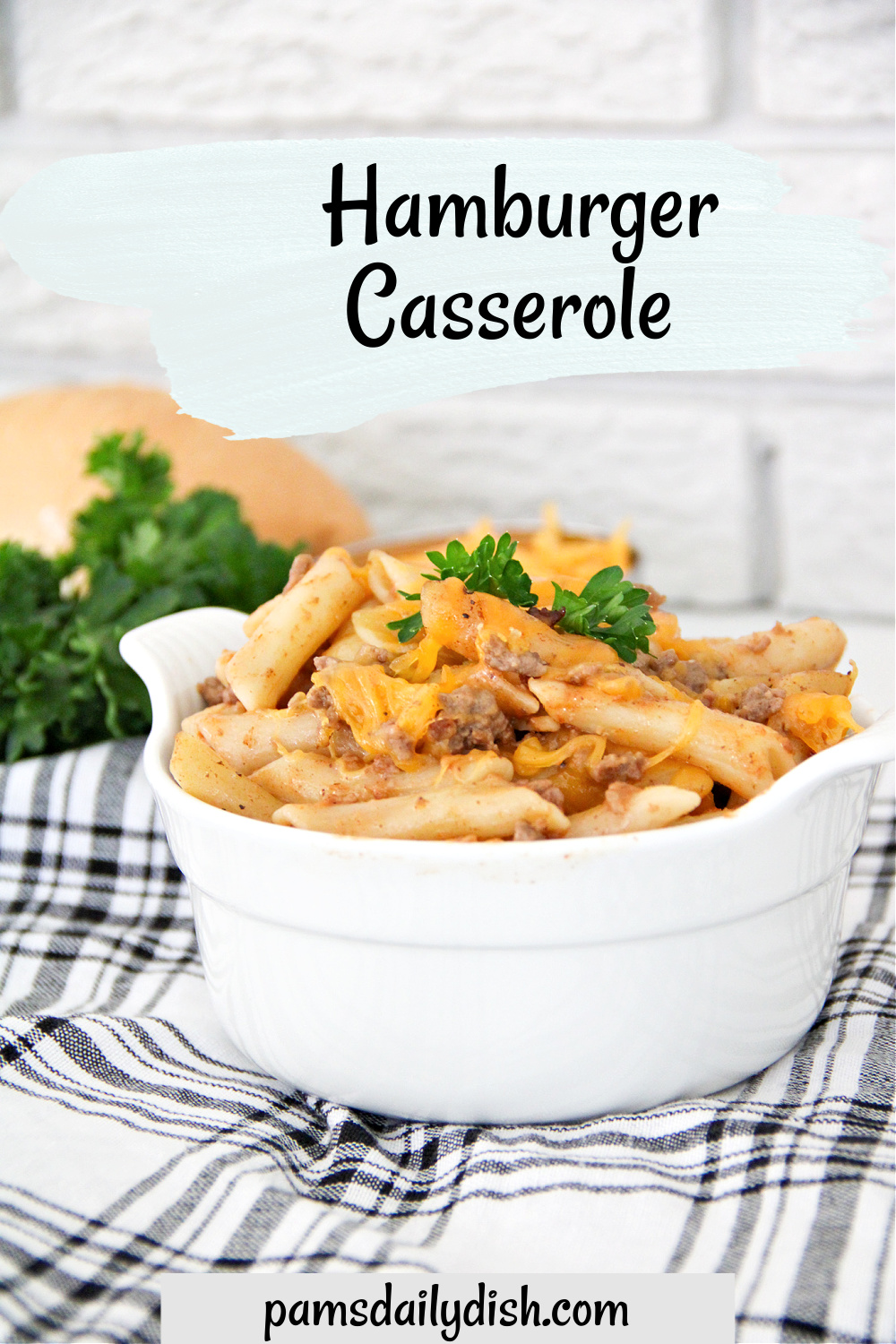 Hamburger Casserole
This hamburger casserole is a delicious family feast or potluck addition that everyone loves. It's loaded with beef, cheese, BBQ sauce, mushrooms, and of course, pasta. It all comes together to create an easy dish that will satisfy even the heartiest eaters. 
Servings
6
main course servings
Ingredients
1

LB

box pasta, I used penne this time

1

LB

ground beef, chicken, turkey, pork, or veggie crumbles

1

can

tomato soup

1

can

cream of mushroom soup

1

cup

BBQ sauce of choice

1/4

cup

ketchup

2

tbsp

chopped fresh or jarred garlic

1/4

cup

chopped fresh onion, this is optional

salt and pepper to taste, this is optional

2

cups

shredded cheese, I used mild cheddar for this recipe
Instructions
1.Preheat the oven to 375 degrees.

2. Cook and Drain Pasta according to package directions.

3. Brown the meat in a large skillet with garlic, add salt and pepper if using. You can also toss in some diced onion, if desired.

4. Once the meat has been browned, drain off any fat. Mix in pasta, tomato soup, mushroom soup, ketchup, and BBQ sauce and half of the shredded cheese. Gently mix to combine. Cook 2-3 minutes to combine and you may see slightly bubbling.

5. Pour the mixture into a 9 X 13 baking dish that's been sprayed with cooking spay. Top casserole with the remaining cheese and bake covered with foil (spray the foil before covering) for 20 minutes.

 7. Remove foil and bake an additional 5-9 minutes to brown the cheese slightly. 8.Take out of oven and let sit for about 5 minutes. Then, serve and Enjoy!

Recipe note: Nice to serve with a side salad or a green veggie.
Thanks for stopping by. I hope you enjoy todays featured recipe along with the other delicious casserole recipes posted. To save or collect these recipes or any of your other favorites, pin them on Pinterest. It's a great way of saving for later on. Before leaving, scroll up so you can print out the creamy cheeseburger casserole in the recipe card.
Bye for now…