Charring vegetables in the oven is a great way to bring out the natural sweetness in them. Great as an appetizer with some ranch dressing and makes a perfect side dish. Enjoy the deliciousness!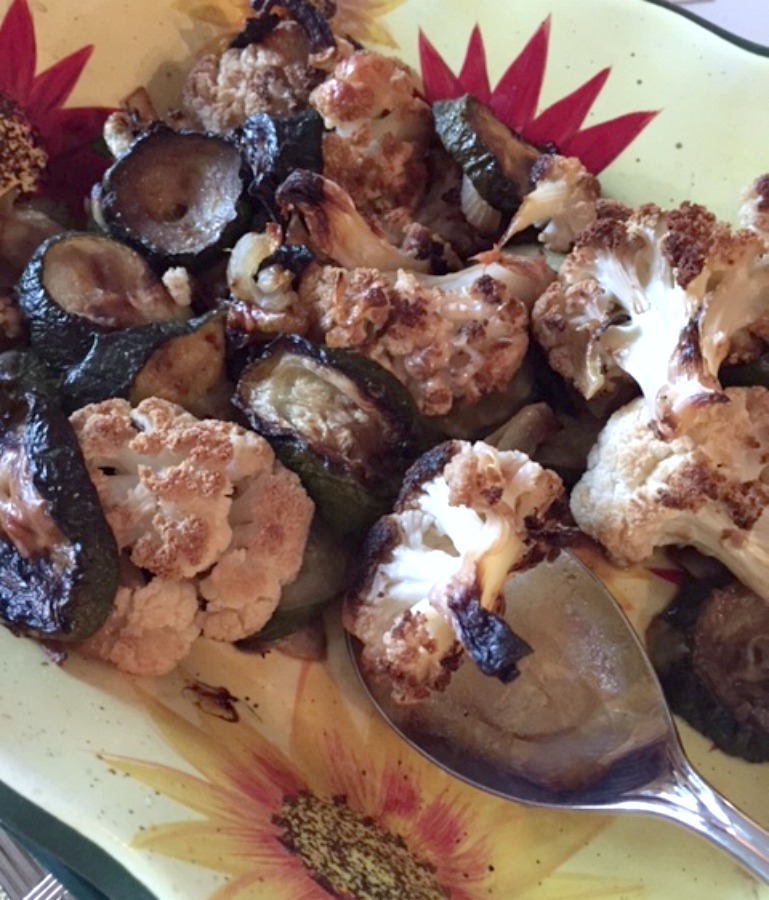 Roasting veggies are a great way to bring out their natural sweetness. Also, they are crunchy and crispy and a good way to get kids to eat them. Sometimes I serve some dipping sauce for my son and he can eat up a whole plate of these veggies. Use your favorite in season. Check out the ones I used for this recipe. Easy-peasy to follow. A big thanks to my dear friend Laurie for sharing this healthy and delicious recipe with me.
Oven Roasted Charred Mixed Veggies
Yields: 6 side servings
Ingredients:
1 head cauliflower, cut up
2 medium zucchinis, sliced
1 head broccoli, cut up
2 medium yellow or red onions cut into chunks
1/8 to 1/4 cup extra virgin olive oil
1/2 to 1 tsp sea salt
1/4 to 1/2 cracked black pepper
1/4 tsp red pepper flakes, optional
Directions:
Preheat oven to 400 degrees, have one or two cookie sheets ready to go sprayed with cooking spray. Set aside.
Cut up veggies, place in a large mixing bowl. Sprinkle with seasonings and drizzle olive oil over all veggies. Toss with clean hands until all veggies are coated.
Lay veggies single layer on cookie sheet and bake for about 30 to 40 minute or until all veggies are soft and look charred.
Note: These taste great warm right out of the oven or cold the next day. Either way, healthy and delicious.

Enjoy!!