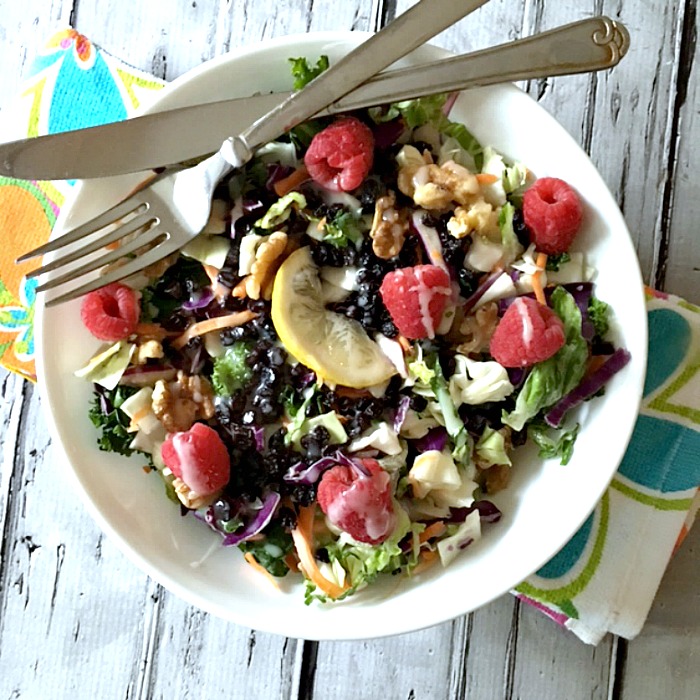 We are a big salad family. I make one with almost every dinner meal. I also like one for lunch when I'm home working from the house. This newest salad was so easy to prepare since I bought the lettuce all ready chopped and washed at the market. Love all the crunchy textures especially when I added the halved walnuts. The sweet raspberries and homemade simple dressing makes this one of my favorites and it's a nice cleanings detox salad as well. See and taste for yourself how healthy and delicious it is. Make one up for yourself.
Chopped Walnut and Mixed Green Salad with Honey Lemon Dressing
Serves 1-2 large salads
Ingredients:
1 bag washed and chopped mixed greens and cabbage, found at your local market – Or mix up you favorite greens and chopped into bite size pieces. (About 3-4 cups salad)
1/4 cup shredded carrots
1/2 cup walnut halves
1/8 cup currants, raisins or dried cranberries
1/2 to 3/4 fresh raspberries, or any berry in season
1/4 cup pumpkin or sunflower seeds
For the detox dressing:
Please note – You can measure ingredients or prepare to taste. Leftover dressing keeps in the fridge covered tightly for about 4 days.
1/2 lemon juiced, about 1/4 cup
1/4 cup cold filtered or spring water
2 tbsp olive oil or avocado oil
1/8 cup honey
1 tsp grain or brown mustard, optional
1 tbsp lemon zest
1/4 tsp sea salt
1/8 tsp ground pepper
dash turmeric, optional
Directions:
In a large serving bowl, toss mixed greens, layer with all other ingredients.
In a mason jar or any jar with a tight fitting lid, add all dressing ingredients in and shake until combined.
Drizzle preferred amount over salad. Toss around and serve up.
Enjoy this healthy and beautiful salad.