Simple Cinnamon Crescent Twists
With only four ingredients you have the most delicious warm pastry that's just like the ones you get at the mall, only better. Make a batch of these so simple cinnamon crescent twists and enjoy.
This has to be one of most requested recipes from my family on weekends for breakfast and brunch.
Why wouldn't it be? It's so delicious!
Flaky on the outside and soft with a slight chew on the inside. The perfect pastry.
You find similar twists just like these at the malls and in bake shops.
Now you won't have to take a trip out when you can easily make these delectable cinnamon twists right at home.
Not only are these great for breakfast and brunch, they happen to be a delicious dessert too. Since they are flaky and light, having two each is not that uncommon like a piece of cake or a donut.
As the person who is the one who makes these, I love this recipe because there are only 4 simple ingredients. You read that right. Only 4!
With those 4 simple ingredients you have a warm from the oven delicious cinnamon twist that everyone will adore.
Perfectly crisp and light with just the right amount of cinnamon.
Scroll down to print this easy recipe out. This way you can bake these up anytime you want.
Simple Cinnamon Crescent Twists
Yields 8 twists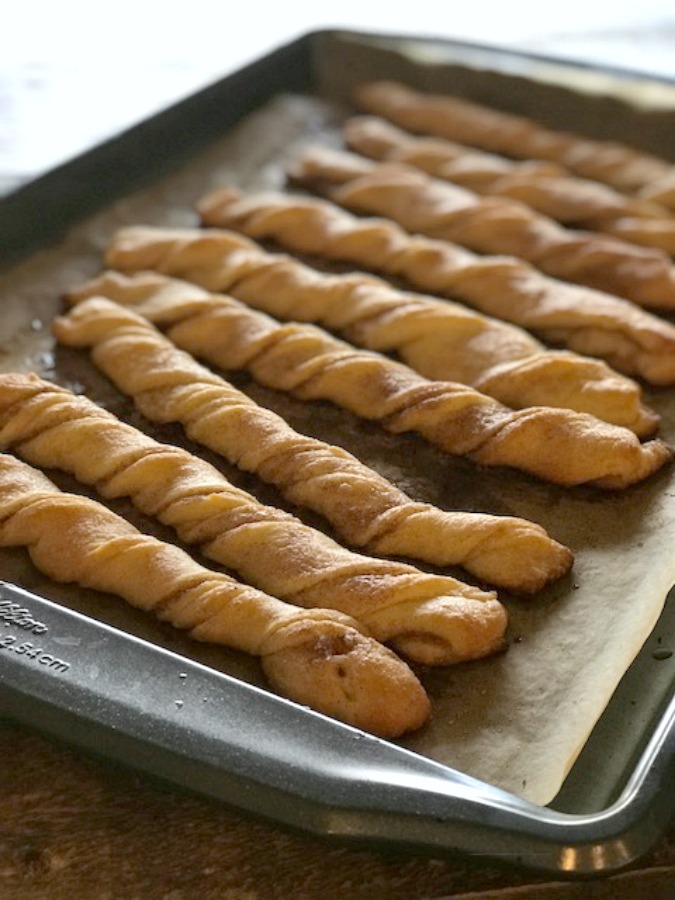 What you'll need to make these delicious simple cinnamon crescent twists…
Ingredients:
1 tube crescent rolls, reduced fat works well too
4 tbsp salted or unsalted butter, melted
3 tbsp granulated sugar
1 1/2 tsp ground cinnamon

Optional glaze

1/4 cup sifted powdered sugar
1-3 tsp cold water

How to make simple cinnamon crescent twists…
Directions:
Here's another quick and easy cinnamon pastry make with crescent rolls…
Out of this world cinnamon rolls
👇 Click the link below for recipe 👇
So Simple Cinnamon Crescent Twists
With only four ingredients you have the most delicious warm pastry that's just like the ones you get at the mall only better! Enjoy every bite!
Ingredients
1

tube

crescent rolls

4

tbsp

butter, melted

salted or unsalted

3

tbsp

granulated sugar

1 1/2

tsp

cinnamon

1/4

cup

sifted powdered sugar

Optional Glaze

1-3

tsp

cold water
Instructions
1.Have a cookie sheet ready with parchment paper. Preheat oven to 375 degrees.

2.Keep the crescent rolls in the fridge until you are ready to use them. In the meantime mix the sugar and cinnamon. Melt the butter in the microwave.

3.Open up the crescent rolls and press seams together to make 4 separate rectangles. On 2 of the rectangles, spread butter and sprinkle with sugar mixture. Save some for later. Replace the other 2 rectangles over each of them (like a sandwich)

4.From the long side, cut 4 strips of dough in each rectangle pouch to make a total of 8 strips. Take each strip and twist a few times.

5.Lay on the parchment paper spaced a few inches apart. Sprinkle the remaining cinnamon sugar mixture over the twists. Bake for about 10-12 minutes until golden brown.

6.Cool for just a few minutes on a wire rack.

7. If using the glaze, whisk powdered sugar and 1 tsp water until combined. Add more water if needed. Glaze should be slightly runny but not too think. With a spoon gently pour the glaze over the twists (go back and forth) to cover the twists. Enjoy warm from the oven.
Thanks for stopping by today! I hope you enjoy these delicious crescent twists. Remember to scroll up so you can print out todays recipe.
To save and collect any of your favorite recipes, you can pin them on Pinterest. It's a great way of saving recipes for later on.
Please stop back again soon. There's so many more recipes to see both sweet and savory. New ones too!
Bye for now…