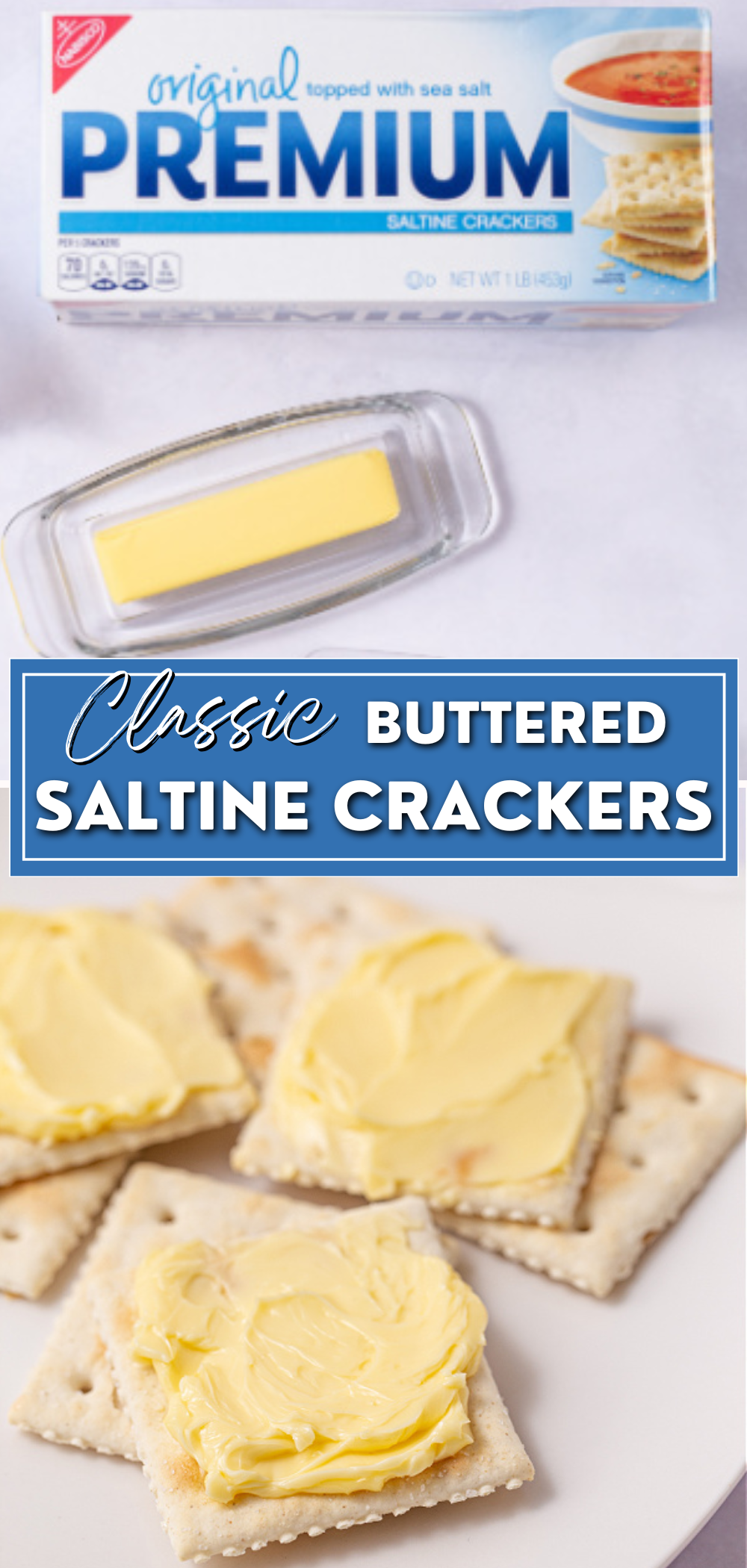 Buttered Saltine Crackers
Buttered Saltine Crackers is the classic snack that we all grew up with. Perfectly salty crackers combined with softened butter create a savory snack that tastes delicious and brings back so many childhood memories.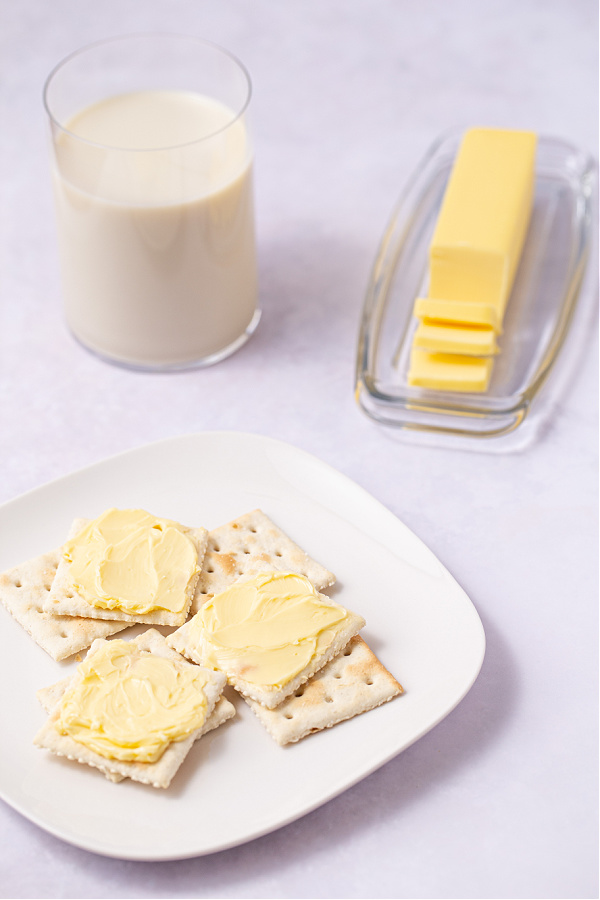 Buttered Saltine Crackers
Growing up Saltines and butter were the snack that was given out in preschool. It stuck with me how much I loved this simple snack.
Then, it just became my go-go snack all the time.
After school, saltines and butter, when I got off the bus. Sports practice, I always brought for my snack.
But, it all changed in middle school. I started to put everything on those iconic Saltines. Cheese, peanut butter, jam, and even sardines once. You name it, I put it on saltines.
My favorite trio, however, has always been just plain salted butter, second favorite, peanut butter, or peanut butter and jam – or sometimes all three!
Saltines and butter is such a great combination of smooth, creamy butter and salty crackers. Peanut butter or jam and Saltines is a great sweet and savory combo that's always so good. Of course, back then, I didn't really cook all that much, so I had no idea that what I was experiencing was almost the perfect flavor profile.
Even today, I love to snack on Saltines. No matter what food might be in the house, when I'm craving some real comfort snacking, I go straight for my old standby. While it's not a recipe per se, I wanted to share this with all of you because I have actually met a few people in my life who have not tried this combo before. I know it's unbelievable, but it's true!
Why You'll Love This Recipe
So super easy to make.
You only use a few ingredients.
It's a childhood favorite of so many of us.
Cost is minimal compared to most snacks.
Ingredients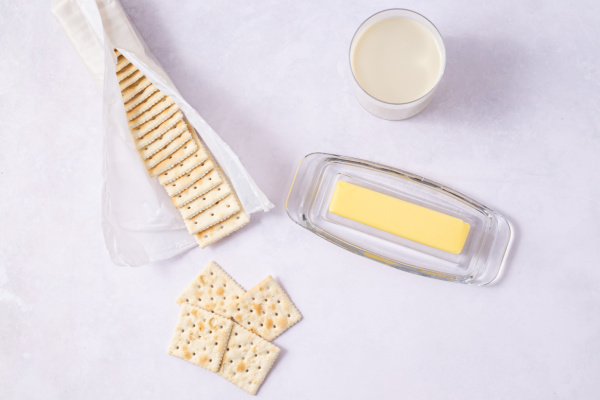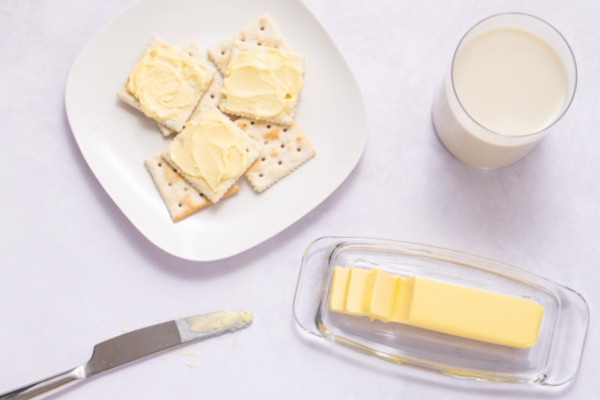 How to Make Buttered Saltine Crackers
Making this snack is the easiest thing you'll ever do. There's no cooking. There's no mixing. There's nothing to it – literally.
Step 1: Gather Your Ingredients
Get yourself a pack of Saltine crackers and your choice of butter. I like salted but unsalted butter works too.
Step 2: Enjoy the Flavor and the Nostalgia
Spread your choice of topping on your Saltine crackers and enjoy!
Variations
Buttered Saltine Crackers were and are my favorite way of enjoying this snack, but Saltines are tasty with all kinds of toppings.
Cheese – You can't beat cheese and crackers.
Vienna Sausages – Those little sausages in a can are so tasty with Saltines.
Honey Butter – Mix a little honey and butter together and top your Saltines with it.
Apple Butter – Apples cooked down into a thick creamy mixture.
Cream Cheese (flavored one are great) I like to make a cream cheese sandwich.
Peanut Butter and Jam or Jelly – Another iconic way to enjoy Saltine Crackers.
Had To Show This Iconic Photo Too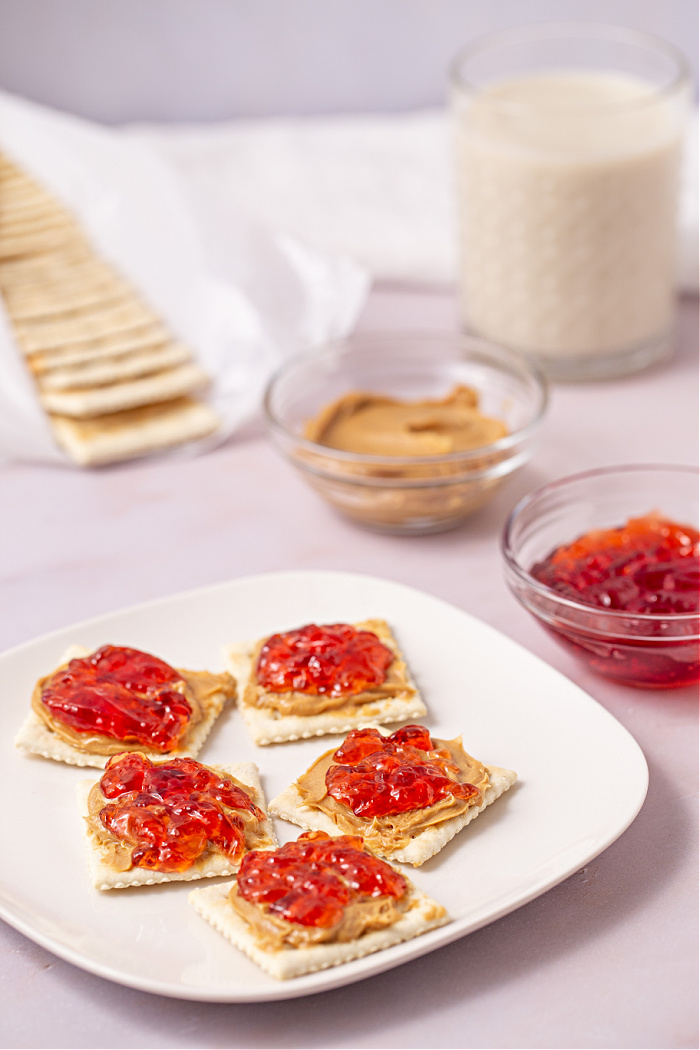 Storage
The great thing about this snack is that there's no reason to worry about storage. Just eat as many as you want and then close up the cracker sleeve and your topping container.
Buttered Saltine Tips
This recipe that isn't a recipe is so simple, I don't have any tips except for these two.
Saltine sleeves are tricky. Be careful when opening up the sleeve, or your Saltines will end up on the floor.
Enjoy the wave of nostalgia that hits when you eat these!
FAQ
If you have questions about this simple snack, then read on. The following FAQ answers the most commonly asked questions about saltines and butter.
Who invented Saltines?
Saltine crackers were invented in 1876 by F.L. Sommer & Company of St. Joseph, Missouri. It used baking soda to leaven its wafer thin cracker, creating the Saltine.
Why are they called Saltines?
They were originally called Premium Soda Crackers, but the name was later changed to Saltines because of the baking salt on top.
Who invented Saltines and butter?
The story goes that sous chef Roderick Moon of the Capital City Club created Saltines and butter in 1972. Supposedly, he was out of oyster crackers to serve with soup at lunch one day and tossed some Saltine crackers with butter to serve with the soup.
More Cracker Recipes
If you like crackers, then you're going to love these recipes.
Buttered Saltine Crackers
If you're ready to make these Saltines and butter, then print the recipe card below or pin this recipe so you can find it later.
Buttered Saltine Crackers
A childhood favorite that's still a favorite snack anytime of day.
Ingredients
Saltine Crackers

Softened salted butter, unsalted works too
Instructions
Soften butter just a bit and smear onto some Saltine Crackers and enjoy!
Sometimes the most simple ingredients make the best eats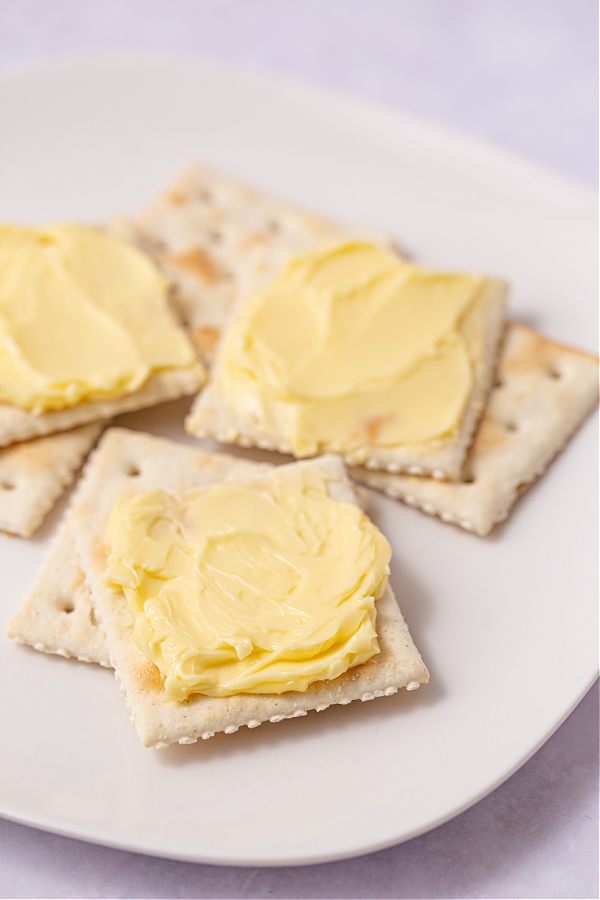 Thanks for stopping by! I hope you enjoyed this post about this childhood favorite. Please stop back again soon. There are so many recipes to see both sweet and savory. To save and collect any of your favorite recipe, be sure to pin them on Pinterest. It's a great way of saving recipes for later on.
Bye for now…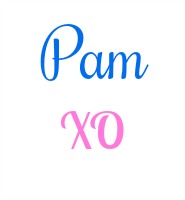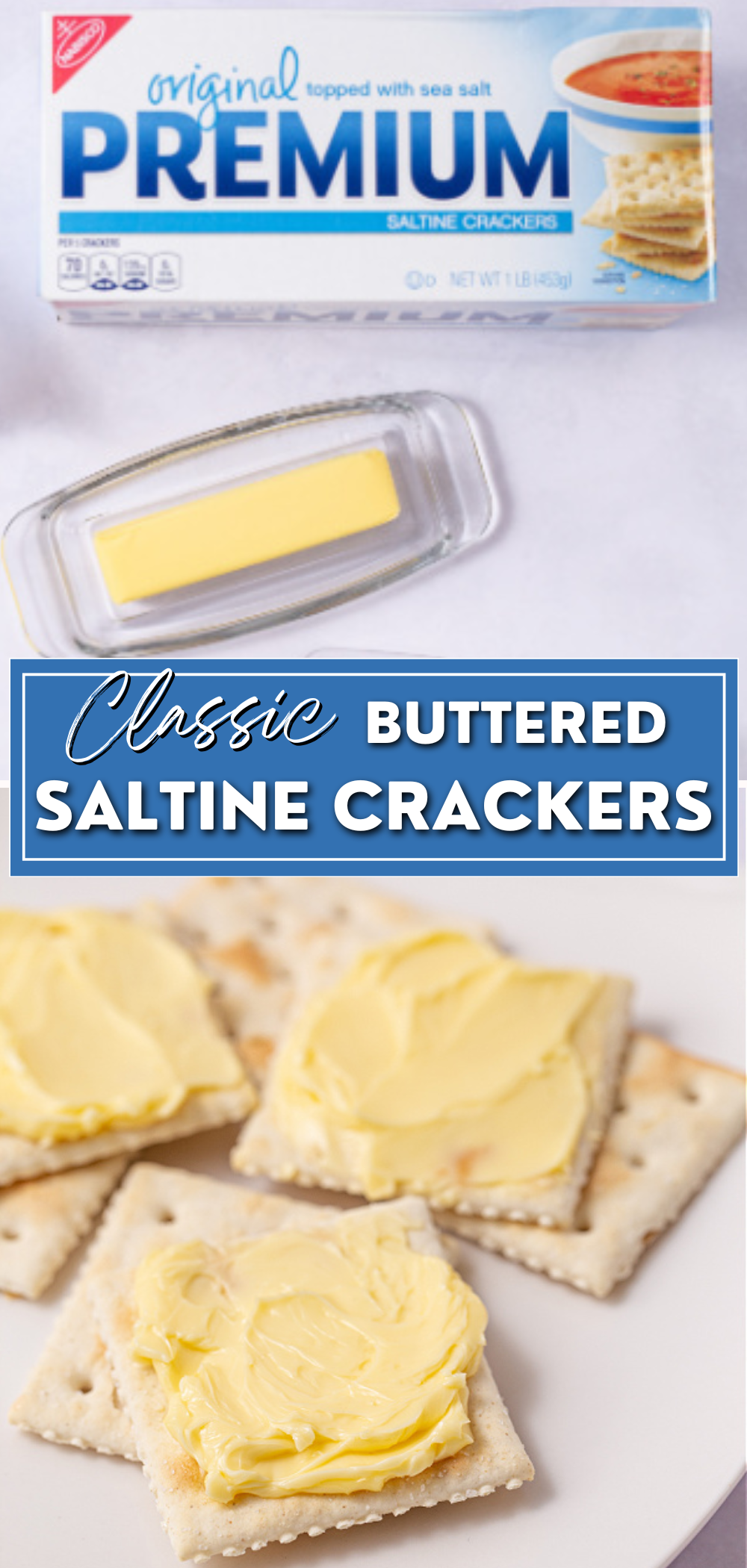 You may see links to ingredients or cooking items in the ingredient, instructions, or equipment sections of this post. I'm a participant in the Amazon Services LLC Associates Program, an affiliate advertising program. I will receive a small percentage of sales generated by this link. However, this in no way increases the price of the items.