Football Stadium Sugar Cookies
The next football game will be even more fun to watch while nibbling on these yummy Football Stadium Sugar Cookies.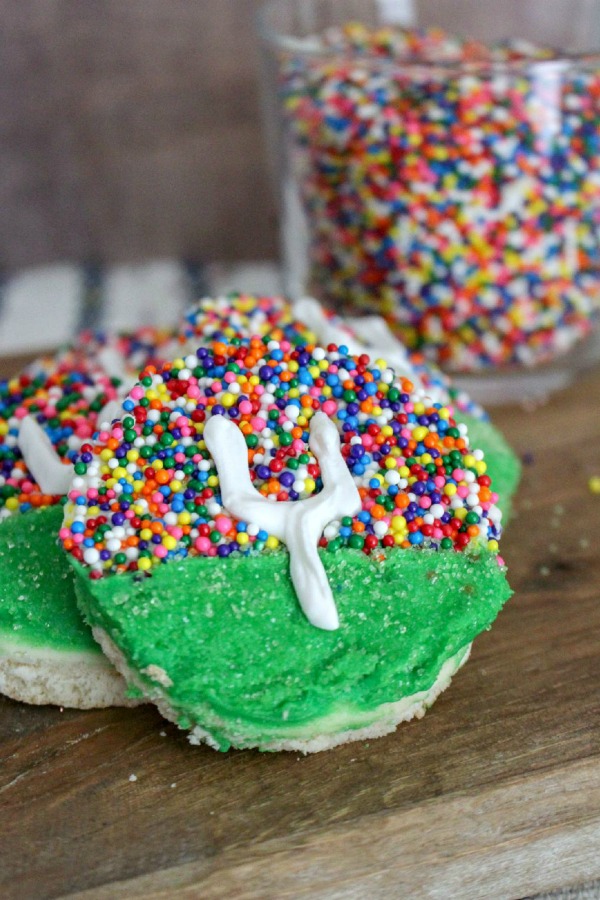 🏈🏈🏈🏈🏈🏈🏈
Football season is here.
No matter what team you're rooting for, these fun to make cookies are sure to be a winner.
If you're not sitting in the stadium you'll be eating one or two or more of these yummy football stadium sugar cookies!
Bake a batch for your next gameday or tailgating party. You are sure to be the star at that game.
Have fun, have a few football stadium sugar cookies and enjoy!
Football Stadium Sugar Cookies
What you'll need to make these cookies…
Ingredients:
1 cup

margarine or butter, you can mix the two but, vegan margarine works really well for this recipe

1½ cups

granulated sugar

3

large eggs

1 tsp

vanilla extract

3½ cups

all purpose flour

2 tsp

cream of tartar

1 tsp

baking soda

½ tsp

salt

vanilla frosting

green frosting

multicolored round sprinkles

green sugar crystals

white candy melts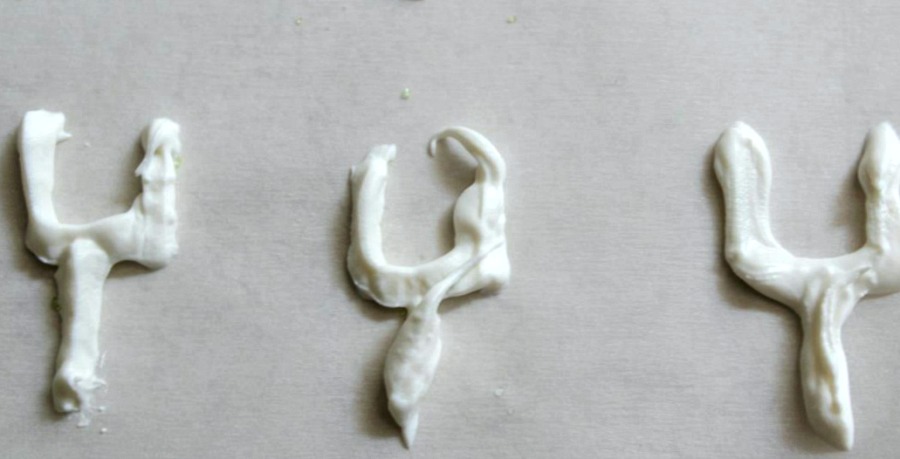 The Finished Cookie!
Here's how to make these yummy cookies…
Directions:
Preheat oven to 375 degrees, line cookie sheet pans with parchment paper or silpat, set aside.
In a bowl, mix together margarine, sugar, eggs and vanilla extract.
In a second bowl, mix together the dry ingredients, the flour, cream of tartar, baking soda and salt.
Combine the dry ingredients to the wet ingredients and mix well. Chill the dough for 4 hours.

Roll the dough to ¼ inch thick. Use a round cookie cutter or a glass to make circle shapes. Place on prepared cookie sheet pans. Bake for 10 minutes. Allow to cool.

Melt white candy melts according to package instructions.
Place the melted candy melts in a Ziploc or bakery bag. Cut a tiny hole in the corner or use a fine tip.
On parchment paper, pipe out a 'Y' shape or field goal shape. Allow to set while you decorate your cookies.
Frost the top half of the cookie in vanilla frosting. Dip the cookie into small round sprinkles. Frost the bottom half with green frosting. Sprinkle green sugar crystals over it.
Pick a field goal and stick to the center of your cookie.
Thanks for stopping by today. I hope you enjoyed the recipe for these adorable football stadium sugar cookies. Everyone will get a "kick" out of these.
Remember to scroll up so you can print out the recipe.
To collect and save any favorite recipes, you can pin them on Pinterest. It's a great way to save any recipe for later on.
Please stop back again soon. There's so many more recipes to see both sweet and savory.
Bye for now…💕