Copycat Trader Joe's Pancake Bread

Everyone who has tasted this Copycat Trader Joe's Pancake Bread can't believe how close to the original it is. Bake one of these delicious breads and enjoy every bite!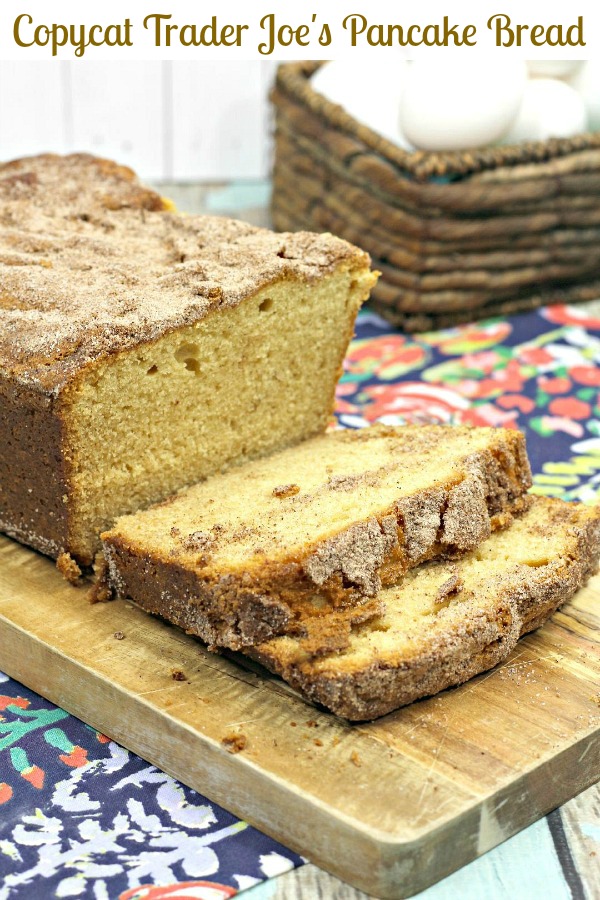 The first time I had Trader Joe's Pancake Bread, it was at a friends house who invited
my family for brunch.
It was so delicious with a moist yet dense cake and the most delicious cinnamon sugar, crunchy topping.
Being a huge Trader Joe's fan, who regularly shops there, I knew right there this was one recipe I had to duplicate.
After two tries, this version was the winner.
My husband and son loved this version and said the same thing I did that it really tasted just like the one they had at my friends house that she bought from Trader Joe's.
This recipe is simple with basic pantry ingredients.
As described on their label, it's a twist between a stack of buttermilk pancakes baked into a sweet, moist loaf cake. It is! Really!
That's what this tastes like. It's now become our favorite loaf cake.
If you like the taste of cinnamon, you will surely love the cinnamon crumb topping.
To jazz things up a bit, serve while still warm and scoop some vanilla ice cream on top for a more decadent dessert. But, our favorite is slathered with butter for breakfast or brunch. Hey, anyway is the right way with this wonderful, sweet bread.
Copycat Trader Joe's Pancake Bread
Yields: 8 to 10 slices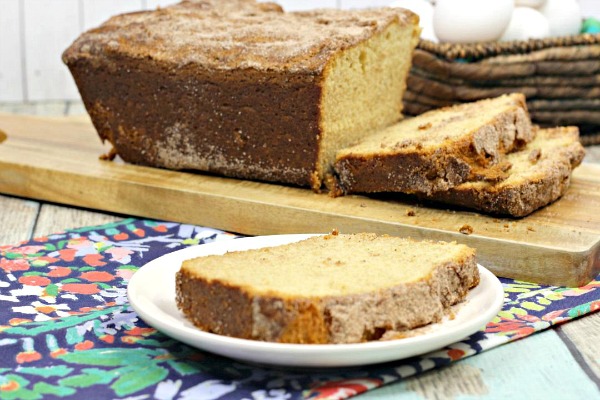 What are the simple, everyday ingredients that make up this delicious pancake bread?
Here are the simple everyday ingredients
all purpose flour
baking soda, make sure the baking soda is fresh, this is very important for all baked goods. Always check the date.
baking powder, same goes for the baking powder
fine sea or kosher salt
unsalted butter, softened
granulated sugar
ground cinnamon
large or extra large eggs

pure maple syrup

(This is the brand I use most often, it's reasonably priced compared to other brands and tastes wonderful)
sour cream, no substitutions for this recipe, low fat, no fat, or yogurt will not work for this recipe
pure vanilla extract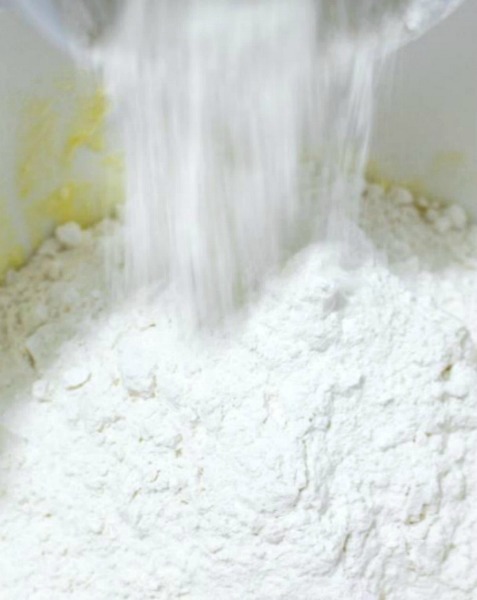 What's In The Cinnamon Sugar Topping?
There are only three ingredients that make a delicious topping
granulated sugar
all purpose flour
ground cinnamon
This is the most common question I get asked about this recipe.
Is this recipe easy to make? Answer, a very easy recipe for sure.
Here are the simple and easy directions: