Old Fashioned Apple Crisp
Here is a simple and easy recipe that's been in my family for years and it's a favorite for sure. Bake an old fashioned apple crisp soon, enjoy the deliciousness!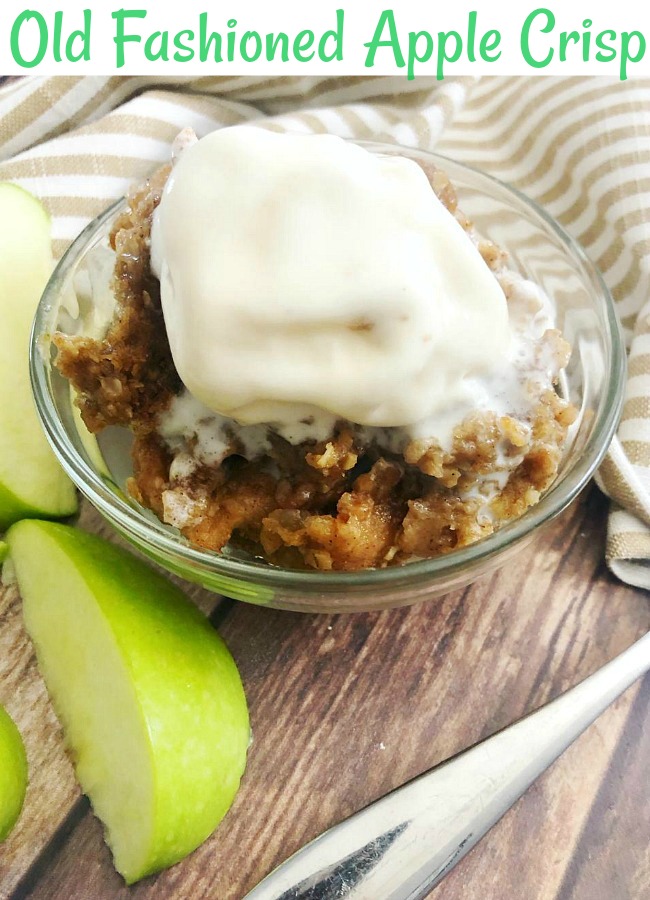 There is something about a recipe that has been around for many years and made by different generations of family members.
I just love making one of these recipes that my siblings and I enjoyed when our mom and grandma made them many years ago.
My sister and I both make this apple crisp recipe and take turns when we all get together for a holiday. However, my daughter and my niece have now requested to be the ones making this recipe.
So, we take turns for all the holidays.
Each person changes the recipe just a little I suppose but, the ingredients basically stay the same for the most part.
I call these recipes the classics. The ones that are still popular and will always be popular because they're made with regular, everyday ingredients.
This simple and easy recipe for apple crisp is on the top of my list for a delicious dessert that is just perfect for any occasion or for anytime you want a warm wonderful dessert.
Grab some apples and some pantry ingredients and have fun baking away.
This happens to be one of those recipes that's nice to bake with the kiddos. One of them can peel the apples the other one slices and dices the apples up. I get the rest of the ingredients ready, all while we talk and laugh together.
It's a special time that's for sure. This is a great dessert to bring when we go to family or friend's for a holiday dinner or potluck dinners.
Just make sure to tell the person who's house the dinner is in have some vanilla ice cream waiting to top each warm piece of this delicious apple crisp. Then, let it melt just a bit before you take your first bite.
Everyone will love this delectable old fashioned apple crisp.
Old Fashioned Apple Crisp
Yields: 8 servings
What you'll need to make an old fashioned apple crisp…
Ingredients:
For the filling:
🍏 🍏🍏🍏🍏🍏
For the crisp:
Enjoy with a big scoop of vanilla ice cream! YUM!
Print recipe below
Old Fashioned Apple Crisp
Here is a simple and easy recipe that's been around for years and is a family favorite. Bake one up and taste the deliciousness!
Ingredients
5

granny smith apples, cored, sliced, and diced

1

cup

light brown sugar

1/2

cup

all purpose flour

1/8

tsp

fine sea or kosher salt

1

tbsp

cinnamon
Crisp
2

cups

quick cooking oats

2

cups

light brown sugar, slightly packed

2

cups

all purpose flour

1/2

tsp

each baking powder and baking soda

1/4

tsp

fine sea or kosher salt

1

tbsp

ground cinnamon

2

sticks

cold unsalted butter, cubed
Instructions
1.Preheat the oven 375 degrees, grease a 9 x 9 square baking pan with butter. Set aside.

2. In a large mixing bowl, combine the ingredients for the apple filling.

3.Now, toss apples into the apple filling and set aside.

4. In another large mixing bowl, combine the apple crisp ingredients except the butter and gently mix to completely combine.

5. Now, use your hands to mix the cubed butter into the apple crisp ingredients.

6. Add half the apple crisp mixture into the bottom of the grease pan and press firmly to make a crust.

7. Pour the apple filling onto the crust.

8. Sprinkle the rest of the apple crisp mixture on top of the apples and bake for about 40 minutes.

9. Let cool for only about 10 minutes. Tastes best when warm. Store leftovers in fridge up to 2 days. Enjoy the apple deliciousness!
Wait! Before you leave, check out another yummy apple recipe, just click the green link!
Enjoy the deliciousness!
Thanks for stopping by! I hope you enjoyed the recipes featured today. Please stop back again soon. There's so many more recipes to see both sweet and savory. New ones too. In the meantime, print out your favorite recipes and pin on Pinterest to save for later on.
Bye for now!