No Machine – 3 Step Homemade Cappuccino
Here is the easiest way to make delicious homemade cappuccino right at home with three simple steps. If you want to learn how to make a great cup of cappuccino without a milk frother, you're in the right place. You're going to love this sweet cappuccino recipe, enjoy!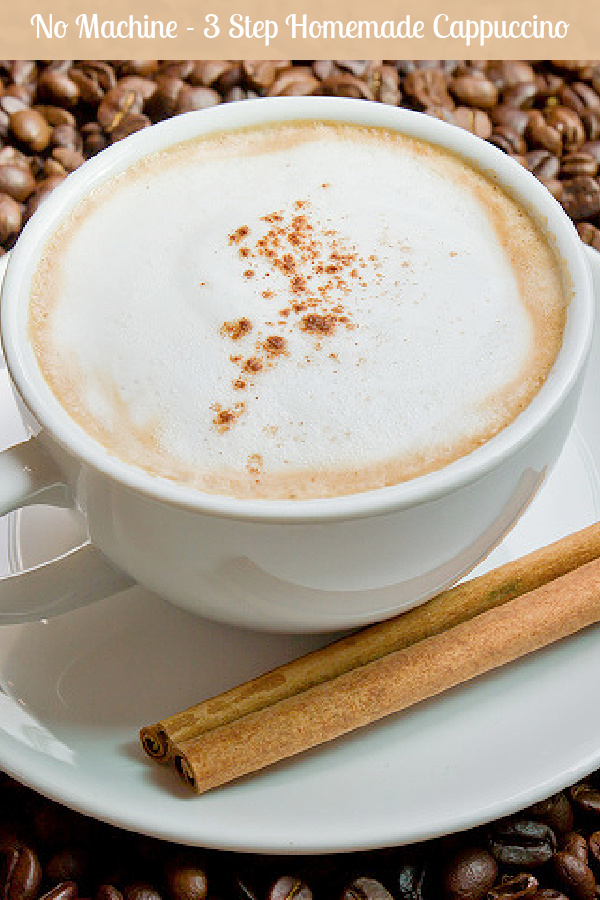 People assume the steps to make a cappuccino are complicated but this recipe is easy to make and tastes amazing too.
Perhaps one of the reasons people think it's hard to make cappuccino at home is because in North America, this frothy hot beverage has only been around for the past few decades. It wasn't until the 1930s that Cappuccinos became really popular in the States.
However, in Europe, cappuccino has been around for hundreds of years and of course the cappuccino recipe has been refined and perfected during that time.
Hot cappuccino as we know it today has been around since the 1900s and was first made in Italy, after the espresso machines were invented.
Early espresso machines were extremely bulky, heavy and expensive so only trained professionals could use them. Over time, espresso machines became simpler to use and the design was improved and refined. Once these machines became more accessible, more and more restaurants, diner and donut shops began serving espressos, lattes and cappuccinos, at any time of day!
These hot beverages became popularized in mass culture, and were no longer solely reserved for those who were part of the more elite coffee culture.
From the different styles of barista drinks that came as a result of the espresso machine, the cappuccino was especially well-liked due to the perfect amount of frothy milk that sits on top of the hot espresso and steamed milk.
Homemade Cappuccino
When you go to a coffee shop in North America, you'll notice their cappuccinos are made with espresso, steamed milk and foamed milk. These establishments use espresso machines and pull espresso shots and a milk frothier, tools you may not have in your kitchen.
If you're wondering how to make a cappuccino without a machine, or hoping you can make cappuccino with regular coffee, then keep reading! It's completely possible, and simpler than you think.
To be perfectly honest, when we are out with friends and everyone at the table is ordering a cappuccino, I don't! You thought I was going to say I did. I know you did. LOL! But, the truth is, I love making my sweet cappuccino recipe at home so when I'm out I usually order a specialty tea or even a plain cup of coffee. Why spend the big bucks when you don't have to?
I absolutely love my homemade version and have fun making my own designs, just like you'd get at specialty coffee shops like Starbucks.
Steps to Make a Cappuccino at Home
Although you may feel intimidated, this homemade cappuccino recipe is easy to make and such a tasty treat. And, by making your cappuccino without sugar, or reduced sugar, this becomes a low calorie treat too. It's a win, win. ☕️
To make cappuccino at home there are only three simple steps…
1. Prepare the coffee or espresso
2. Prepare the steamed/frothy milk.
3. Pour into a cup and enjoy!


☕️☕️☕️☕️☕️
I enjoy a nice hot cappuccino for dessert. It's just the right amount of sweetness and satisfies my craving without needing a fat-laden dessert.
By the way, I love inviting a friend over for homemade cappuccino and showing off a bit. It never fails to impress! I've done this many times and my friends can't believe I made the cappuccino myself.
Now it's time for you to grab those three or maybe two ingredients in a jar with a lid and make yourself this delicious and soothing beverage. You deserve it!
Grab a biscotti and dunk away.
No Machine 3 Step Homemade Cappuccino
Well, now I can enjoy this wonderful cappuccino drink right at home. Who knew it was this easy?
With these three simple steps you will have your delicious, hot cappuccino in front of you in just a few minutes.
The best part, other than you can enjoy a cappuccino anytime you want, is the cost is just a fraction of what you would spend out just about anywhere they sell cappuccinos. You know what I'm talking about. It's crazy!
Yields: 1 serving
Nutrition: With Sugar—calories 59, fat 0.1 g, sat fat 0.1 g, sugars 10.4 g, carbs 10.3 g, pro 4.4 g, fiber 0 g
Sugar free—calories 43, fat 0.1 g, sat fat 0.1 g, sugars 7.2 g, carbs 7.1 g, pro 4.4 g, fiber 0 g
WW Smart Points with sugar: 2 , WW Points Plus :1
WW Smart Points sugar free : 2 , WW Points Plus : 1
Cappuccino Ingredients:
strong brewed hot coffee. Instant espresso works too and even decaf coffee will work
skim or low fat milk, whole milk and almond milk work for this recipe
granulated sugar or sugar substitute such as Splenda or Stevia. Or, leave out completely
full printable recipe below
Click here for full easy directions to steam/froth milk in microwave
How to Make a Cappuccino at Home?
Here Are The Easy-Peasy Directions:
Prepare coffee or espresso

Follow simple directions here to steam/froth milk in the microwave

3 Simple Steps to Steam/Froth Milk In The Microwave
Pour prepared coffee into a large mug, add sugar. Stir to combine. Add in frothy milk. That's it!
Have fun with this easy cappuccino recipe and enjoy your homemade cappuccino!
Do You Stir a Cappuccino?
A good cappuccino has one part coffee to one part steamed milk to one part foam. Since the foam is the lightest part of the drink, you want it on top for presentation and you can stir the layers together to drink it, if you want to avoid a foam mustache!
How to Make a Cappuccino without Foam
If you want to skip the frothy milk altogether that's just fine! While this is technically a latte, I won't be calling the coffee police! In this case adjust your ratios to 1/3 coffee to 2/3 steamed milk.
You don't want to miss these other delectable copycat beverages you can easily make at home. No more running out to spend the big bucks when you can make these in your own kitchen.
Copycat Starbucks Caramel Macchiato
Copycat Starbucks Pumpkin Spice Latte

print full recipe below..
No Machine – 3 Step Homemade Cappuccino
The most simple way make a favorite hot beverage right at home with only a few steps. Enjoy!
Ingredients
1

cup

black coffee or espresso

instant espresso works too

1/2

cup

skim or low fat milk

1

tsp

granulated sugar
Dust to top of your cappuccino with shaved dark chocolate. Delicious as a dessert.
Thanks for stopping by. I hope you enjoy the cappuccino recipe featured today. You can pin all your favorite recipes on Pinterest to save for later on.
Please stop back again soon. There's so many more recipes to see both sweet and savory. New ones too.
Bye

for now!