Simple Recipe…Cake Mix Watermelon Cupcakes – This is a really easy and fun recipe to make with the kids. These cupcakes taste yummy and look amazing. Enjoy!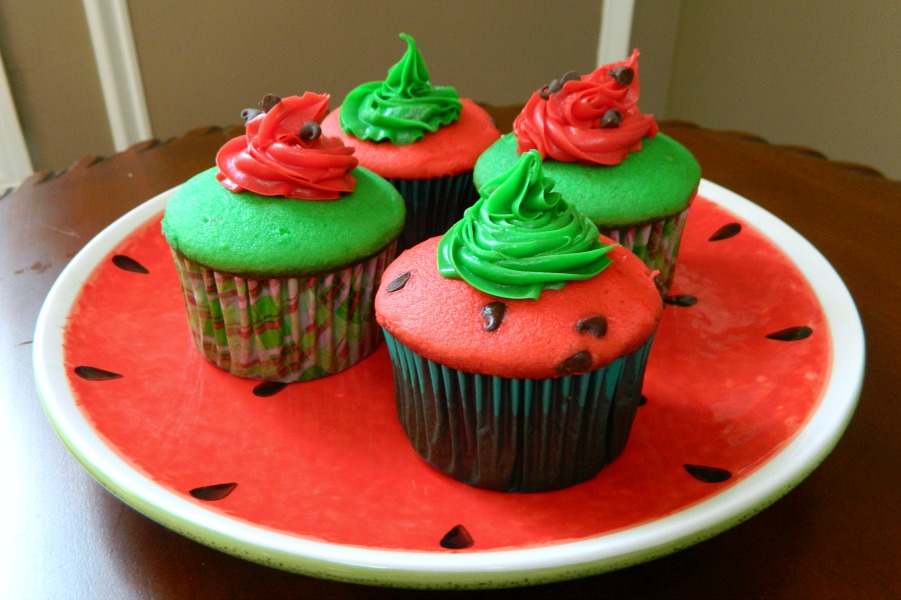 This is such a fun recipe to make with the kiddos. My son and I recently made a batch of these cute gems. We brought some over to neighbors and family. Everyone loved the way they looked and said they tasted even better! Using a cake mix makes for a moist and delicious cupcake. On top of that, it was the easiest recipe to follow. Believe it or not, these are a guilt free dessert. Much less fat and calories than you would expect in a moist delicious and frosted cupcake. Enjoy making and eating. This recipe is sure to become a favorite for picnics and BBQ s.
Simple Recipe…Cake Mix Watermelon Cupcakes
Yields: 16 frosted cupcakes
Nutrition: calories 181, fat 4 grams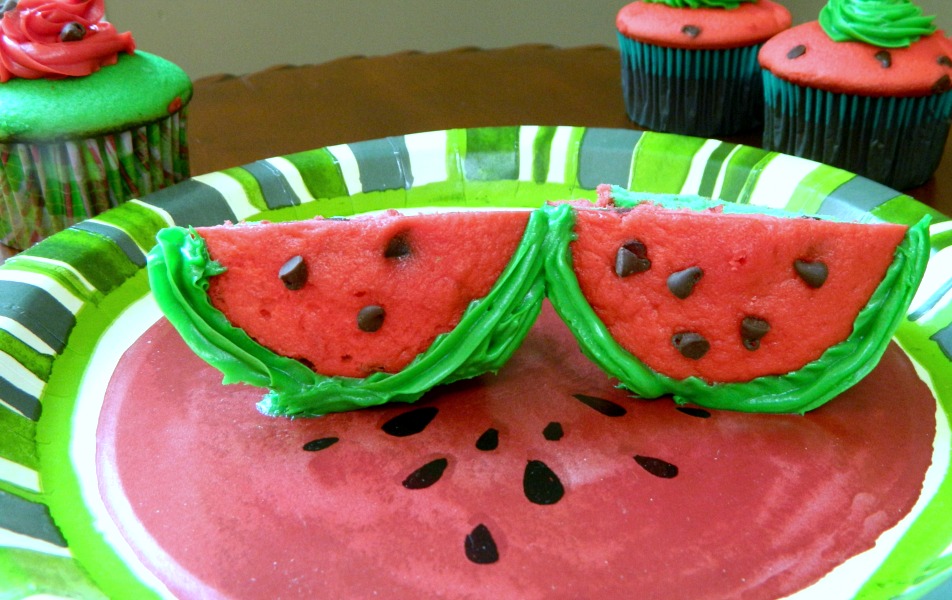 Look how cute these are! 🍉
Simple Recipe...Cake Mix Watermelon Cupcakes
This is a really easy-peasy recipe that's fun to make and tastes sweet and moist. Just the way a cupcake should be. These however look like small watermelons! Enjoy!!
Servings
16
frosted cupcakes
Ingredients
1

box

white cake mix

10

ounces

plain seltzer or club soda

3

large

egg whites

2

tsp

baking powder

1

tsp

vanilla extract

1/2-3/4

mini

chocolate chips

red and green food coloring, drops or paste

16

tsp

from a tube of decorating icing, or any frosting of choice

red and green colors
Instructions
1.Preheat oven to 350 degrees. Line 16 muffin cups with paper or foil liners. Set aside until ready to fill.

2.In a large mixing bowl, add the cake mix, seltzer, egg whites, baking powder and vanilla. Mix with a rubber spatula until all ingredients are well combined. Dig deep to make sure no dry mix is still on the bottom.

3.Now with an electric mixer, beat on medium to high until smooth and fluffy. This takes about 2 minutes.

4.Take half of the batter out and place in another mixing bowl. Add the red drops to one batch and green to the other. Gently mix with a spatula or wire whisk until combined and you achieve the color you want.

5.Place in fridge for about 15 to 20 minutes.

6.Take out of fridge, fold in about 1/4 cup of the mini chips into the red batter. Now, using an ice cream scoop, fill 16 cupcakes.

7.Bake about 20 minutes until a toothpick or wooden skewer comes out clean or with dry crumbs. ( Turn the pan around after about 10 minutes for even baking)

8. Let cool on wire rack for about 20 minutes then invert and let cool completely on wire rack until ready to frost.

9. Squeeze out a teaspoon of each icing on the cupcakes and sprinkle some of the mini chips on top.