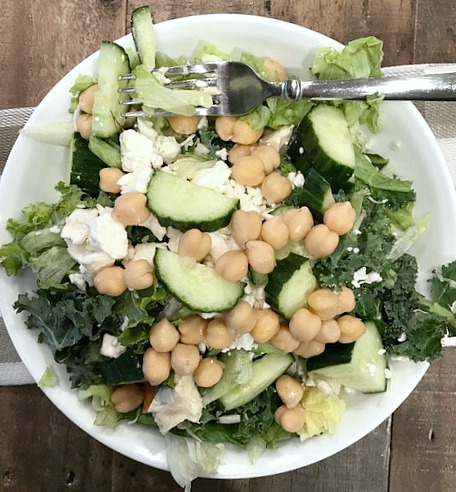 Here's a quick and tasty salad that I prepare regularly during the week for lunch or dinner. The chickpeas adds a nice amount of protein and fiber and the feta gives this salad a nice zing of added flavor. The dressing is also a quick recipe that keeps in the fridge for up to a week. Eat up, this is a healthy and delicious salad.
Chickpea Feta Salad with Red Wine Vinaigrette
Serves 2 nice size salads
Ingredients:
1 bag prewashed mixed salad greens, I used one with kale and romaine
1/2 bag prewashed shredded cabbage, optional
1 small can chickpeas/garbanzo beans, drained and rinsed in cold water
1/2 cup to 3/4 cup feta cheese, cubed or diced up
1/2 cup sliced English/hot house cucumbers
1/2 cup cherry or grape tomatoes
Dressing
1/4 cup red wine vinegar
1/2 cup olive oil
1/2 tsp garlic powder
1 tsp dried oregano
1/4 tsp ground black or white pepper
3/4 – 1 tsp sea or kosher salt
1 tsp honey or sugar, optional
Directions:
Layer all salad ingredients starting with the lettuce.
In a mason jar or any clean jar with a lid, add all dressing ingredients and shake, shake, shake.
Either plate up salad on two separate plates and drizzle dressing or pour desired amount over salad and toss. ENJOY!