Looking for a simple and satisfying salad to throw together anytime of day? You can clicked on the right place. This salad was a breeze to make and it's perfect for two people or a really large salad just for one. I like convenience, so when I can buy prepackaged lettuce, I am all in. Fresh and crispy, with a nice balance of crunchy, chewy toppings, perfectly mixed in with a simple dressing. Clean eating, healthy and so delicious. How perfect!
Quinoa Kale and Red Bean Salad
Servings are for 2 lunch salad or 1 large dinner main course salad
Ingredients:
1 bag of your favorite mixed greens, I used one that had kale, red cabbage and romaine, there are many varieties to choose from in the produce section of your market.
1 small can red kidney beans, drained, rinsed and drained well
1 cup cooked quinoa, I used frozen cooked quinoa from Trader Joe's
1/2 cup raisins, ,dried cherries dried cranberries, I used unsweetened dried cranberries, sweetened with apple juice
1/2 cup sliced almonds
1/2 cup matchsticks carrots from a bag, chopped
1/2 small cucumber chopped
For the dressing…
1 tsp Dijon or grain mustard
1 tbsp drippy honey
1/8 cup cold water
1/4 tsp Kosher or sea salt
1/4 tsp ground pepper
1/8 tsp ground turmeric
1 tbsp olive oil or avocado oil
Directions:
Chopped up greens from bag, toss into a large serving bowl.
Add in all other ingredients.
In a mason jar or any clean container with a lid, add all dressing ingredients. Using a mini whisk or fork, mix to combine. Then, close the jar and shake up. Use right away or can be kept in fridge up to 4 days.
Pour over salad and toss.
Enjoy this healthy meal!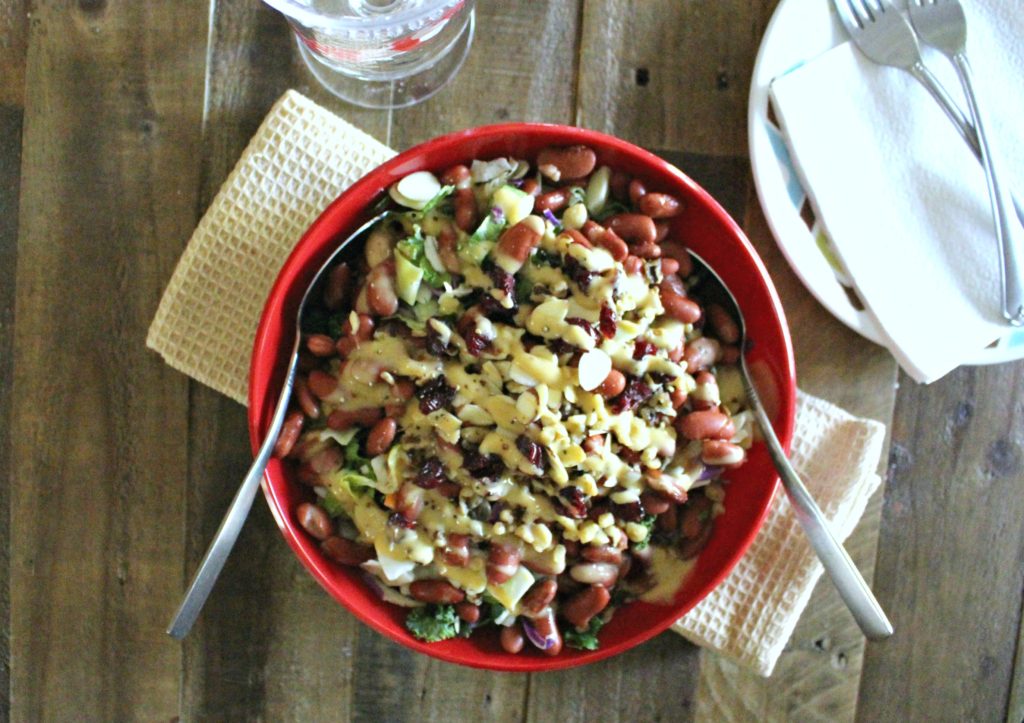 Note: All highlighted ingredients are ones I used for this recipe.