Broccoli Salad with Orange Ginger Dressing -This salad has great textures and bright flavors your taste buds will love. So simple to put together too. Enjoy!
Salads are one of my favorite things to eat. I love making salads at home, all different kinds. I find them very creative. You can add in just about anything to greens and it turns out to be a great meal. The best part of a salad in my opinion is all the different textures. From soft lettuces like butter lettuce to really crunchy lettuce like Kale. Of course the add ins are what makes each salad unique you have been on this blog before, you know there are lots and lots of crazy yet simple salads to choose from. This one was so easy to throw together in no time at all. I had just bought a bag of broccoli florets from Target along with a bag of mixed, chopped greens. Love these bags of lettuce. They are washed and ready to eat. I added my favorites for this particular salad. Roasted pumpkin seeds are so good along with dried cranberries. Those two ingredients look beautiful together and the combo of the salty and chewy tastes great too. Check out the whole salad recipe with the most tasty and delectable dressing that also is a snap to make.
Broccoli Salad with Orange Ginger Dressing
Yields: 2 servings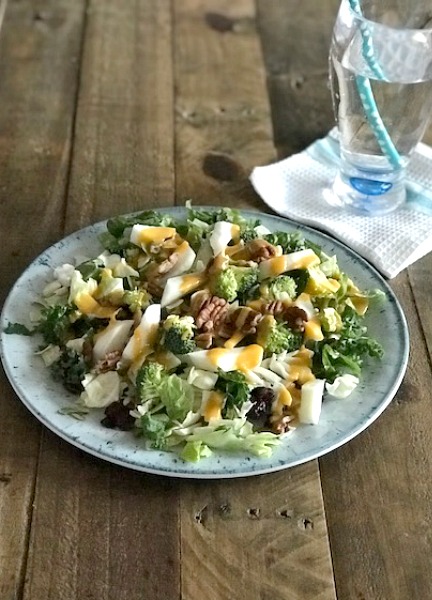 Ingredients:
1 – 1 1/2 cups broccoli florets cut into small pieces
1 bag chopped mixed greens, mine came with kale, romaine and cabbage with other greens included.
1 small to medium apple sliced
3 tbsp roasted pumpkin seeds
3 tbsp dried cranberries
2 tbsp pecans
2 tbsp flaxseeds
1/4 of a red or sweet onion, sliced thinly
Dressing Ingredients:
1/2 cup orange juice, I used fresh. You can use bottled
1/2 of an orange, sectioned
2 tbsp good quality olive oil
1 tbsp fresh ginger, chopped
1/2 tsp sea salt
1/4 tsp ground black or white pepper
1 tsp honey, optional
Directions:
Toss lettuce in a large serving bowl.
Layer the rest of the ingredients ending with the broccoli.
Add all dressing ingredients into a blender or food processor and blend until smooth.
Pour dressing over salad and toss gently.
Enjoy the freshness!