Black and White Poke Cake
This simple and easy recipe for Black and White Poke Cake is a favorite around my house. It's beyond delicious and a really simple and easy recipe too.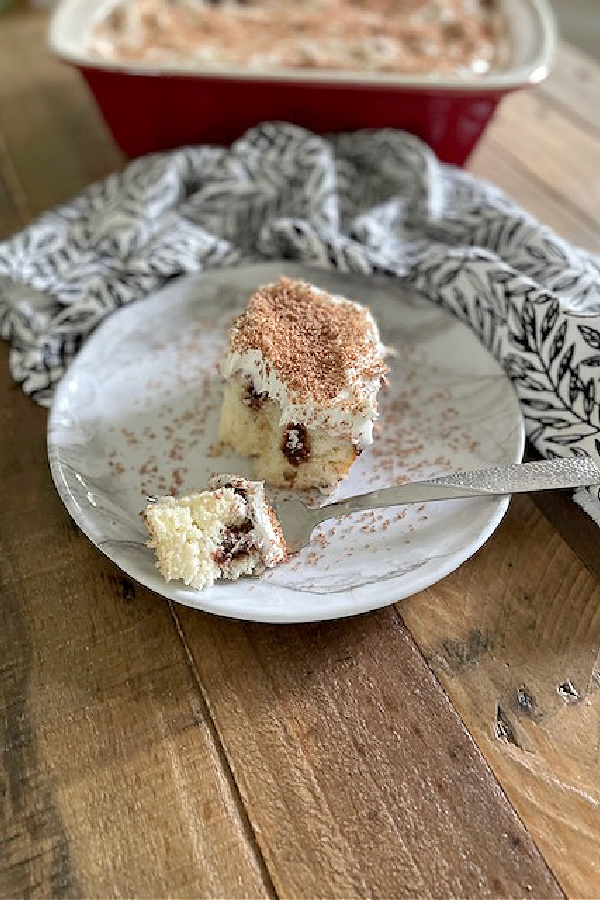 Black and White Poke Cake
Yields: 15 servings
Nutrition: calories 200.1, fat 4.2 g, sat fat .6 g, carbs 36.7 g, sugars 21 g, fiber .5 g, protein 2.5 g
WW Smart Points: 8 – WW Points Plus: 5
Ingredients:
1 package Betty Crocker white cake mix
1 1/3 cups cold water
2 large egg whites
1/2 tsp vanilla extract, for cake mix
1 small box Chocolate Sugar Free Fat Free Instant Pudding mix, you can use regular instant pudding mix
2 cups cold unsweetened vanilla or plain almond milk (30 calories a serving)
1/2 tsp vanilla extract, for pudding mix
1 tub Cool Whip Free, use any Cool Whip or TruWhip frozen topping, thawed
grated chocolate for garnish, this is optional and was done with one mini Hershey's nugget
Directions:
Preheat oven to 350 degrees, spray a glass 13×9 baking pan with cooking spray, set aside.
Mix first 4 ingredients with hand mixer until blended. About 2 minutes.
Pour into prepared pan. Bake about 30-35 minutes or until toothpick inserted in center comes out clean. Immediately poke deep holes in cake at 1-inch intervals, using handle of wooden spoon.
Beat pudding mix, milk and vanilla extract in large bowl with whisk for 2 minutes until thickened. Pour into holes and spread gently and evenly over cake. Place in fridge for about 1 hour.
Grate chocolate on top if using.
Take out spread on the Cool Whip and place back in fridge for another hour.
Cut into 12 pieces and ENJOY! It's so yummy!