Frozen Nutella Cookie Sandwiches
Nutella is so delicious on its own. Freezing with whipped topping and mini chocolate chips is total deliciousness. Try these 4 Ingredient Frozen Nutella Cookie Sandwiches and enjoy.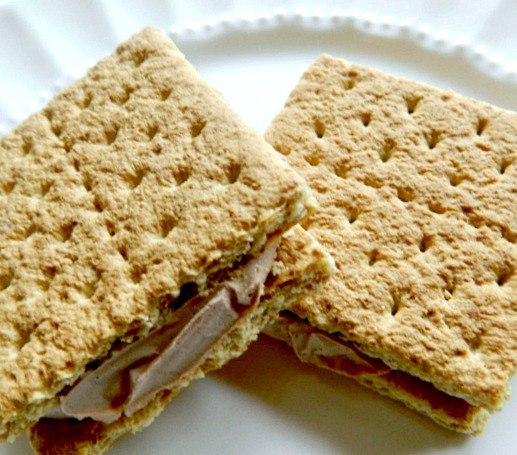 If you have been on this blog before, you have seen all the yummy recipes made with Nutella.
That's how much I love the creamy hazelnut spread. My whole family does too.
I always say, Nutella should be a food group. LOL!!
This simple recipe is great. No baking or heating anything.
Just prepare and freeze these gems.
In this recipe I happen to use one of my homemade Nutella recipes.
One is a skinnier version that happens to taste very similar to the original, the other is a paleo recipe.
But, for the authentic Nutella goodness, use the original Nutella. to be honest, there's nothing like the real Nutella.
The links for the homemade versions of Nutella are below.
Just a note.. I added a couple of teaspoons of mini chocolate chips in the ingredient section. This is optional and the nutritional roundup and WW points do not do not include the chocolate chips.
These are a wonderful treat the whole family will adore. Sensible eating, is always good.
Frozen Nutella Cookie Sandwiches
Yields 4 cookie sandwiches
Nutrition: calories 125, fat 4.8 g, sat fat 1.6 g, carbs 19 g, sugar 9.3 g, fiber .8 g, protein 1.8 g
WW Smart Points: 5 – WW Points Plus: 3
This recipe has just four ingredients
Here's The Simple Ingredients:
4 whole sheets graham crackers
6 tsp Nutella, see note on homemade versions
4 heaping tbsp Cool Whip, I used sugar free
2 tsp mini chocolate chips, this is optional, you can mix them in with the nutella mixture
Here's how these frozen Nutella cookie sandwiches are made
Easy – Peasy Directions:
Break each cracker in half to make 8 squares.
In a mixing bowl, mix Nutella with whipped topping until smooth. It's okay if there are streaks of Nutella.
Fold in mini chips if using.
Dollop a heaping tablespoon onto 4 of the crackers. Gently lay the other crackers on top to make a sandwich. It will squeeze out a little but that's okay. It will harden when frozen.
Wrap each cookie sandwich individually in plastic wrap. Lay on a freezer safe plate or small cookie sheet and freeze for about 2 hours or until firm. Take out of freezer when ready to eat and take a big bite!
Freeze up to 3 weeks.
Enjoy the Nutella Deliciousness!
Here are the two recipes for homemade Nutella!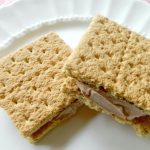 Frozen Chocolate Chip Nutella Cookie Sandwiches
Nutella is so delicious on its own. Freezing with whipped topping and mini chocolate chips is total deliciousness. Try these 4 ingredient cookie sandwiches and enjoy!
Ingredients
4

whole

sheets graham crackers

6

tsp

Nutella

4

heaping tbsp

Cool Whip, I used sugar free

2

tsp

mini chocolate chips, this is optional
Instructions
1.Break each cracker in half to make 8 squares.

2.In a mixing bowl, mix Nutella with whipped topping until smooth. It's okay if there are streaks of Nutella.

3.Fold in mini chips if using.

4.Dollop a heaping tablespoon onto 4 of the crackers. Gently lay the other crackers on top to make a sandwich. It will squeeze out a little but that's okay. It will harden when frozen.

5.Wrap each cookie sandwich individually in plastic wrap. Lay on a freezer safe plate or small cookie sheet and freeze for about 2 hours or until firm. Take a big bite and enjoy every!

Note: Freeze up to 3 weeks
Love Nutella