This extra large baked apple is the perfect dessert, snack or even breakfast. Loaded with crunchy granola and chewy dried fruit. Bake one up soon, you'll love it, enjoy!
This recipe is so very easy to make, healthy and delicious too. I love baking Apples throughout the year for a nutritious snack and desserts. By making this in the microwave, then finishing off in the oven for just a few minutes it takes only a short time from start to finish. I think you will really like the smooth and warm apple with the crunchy granola and chewy raisins, then to top it off, creamy cool yogurt. Lot's of great texture in this baked apple. Make one for yourself and taste the healthy deliciousness!
Extra Large Baked Apple with Crunchy Granola
Yields: 1 large stuffed apple
Nutrition: calories 162, fat 1.6
Ingredients:
1 large Rome apple
1/2 to 3/4 cup cold water or apple juice
1 tsp cinnamon
1 12 tsp honey, agave nectar, or brown rice syrup
1//3 cup granola or a half of a crunchy granola bar broken into small pieces
1 tbsp dried cranberries, raisins or any dried fruit of choice
2 heaping tbsp vanilla yogurt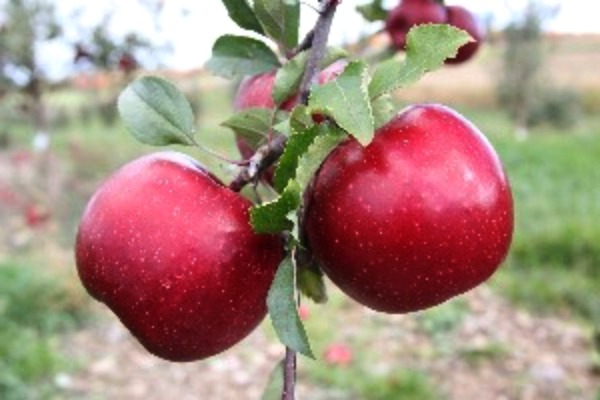 Sweet Rome Apples On The Vine
Crunchy Granola Goes So Well On A Baked Apple
Directions:
Preheat oven to 350 degrees
Wash and core your apple. Cut a small piece off the bottom so the apple can stand on it's own. Place in a microwave safe dish
Pour the apple juice or water over the apple. Sprinkle the cinnamon in the inside of the apple and on top and around the water.
Drizzle the honey/agave nectar/brown rice syrup on top before putting on the microwave. It's ok if it drizzles down the sides or in the middle.
Place in the microwave for about 3 minutes. Take out and with a spoon, pour the liquid over the apple a few times and place back in the microwave for about 2 more minutes.
Take out and spoon the liquid again. If the apple seems soft enough sprinkle the granola and dried fruit inside the apple and place in the oven for about 5 to 10 minutes.
Take out and let cool down for about 10 to 15 minutes.
Now remove the apple and place in a dish or bowl and spoon the sauce over again if you want, then place a large dollop (About 2 heaping tbsp) of yogurt on top of the apple and sprinkle with cinnamon or leave plain. Enjoy!