Mixed berry dessert nachos feature baked, cinnamon-sugar tortilla chips topped with blackberries, strawberries, blueberries, and raspberries, almonds, and whipped cream. They come together to make a sweet, delicious dessert that's as fun to eat as it is delicious!
I love sweet treats that are loaded with berries. From pies to quick breads, fluff, and cheesecake, if they have fruit, I'm all in. However, sometimes, I like to keep things light as well as fruity. That's when I make this delicious dessert nacho recipe. It's full of a variety of mixed berries and nuts, and topped with whipped cream. And it's all eaten with perfectly baked, golden brown cinnamon-sugar tortilla chips!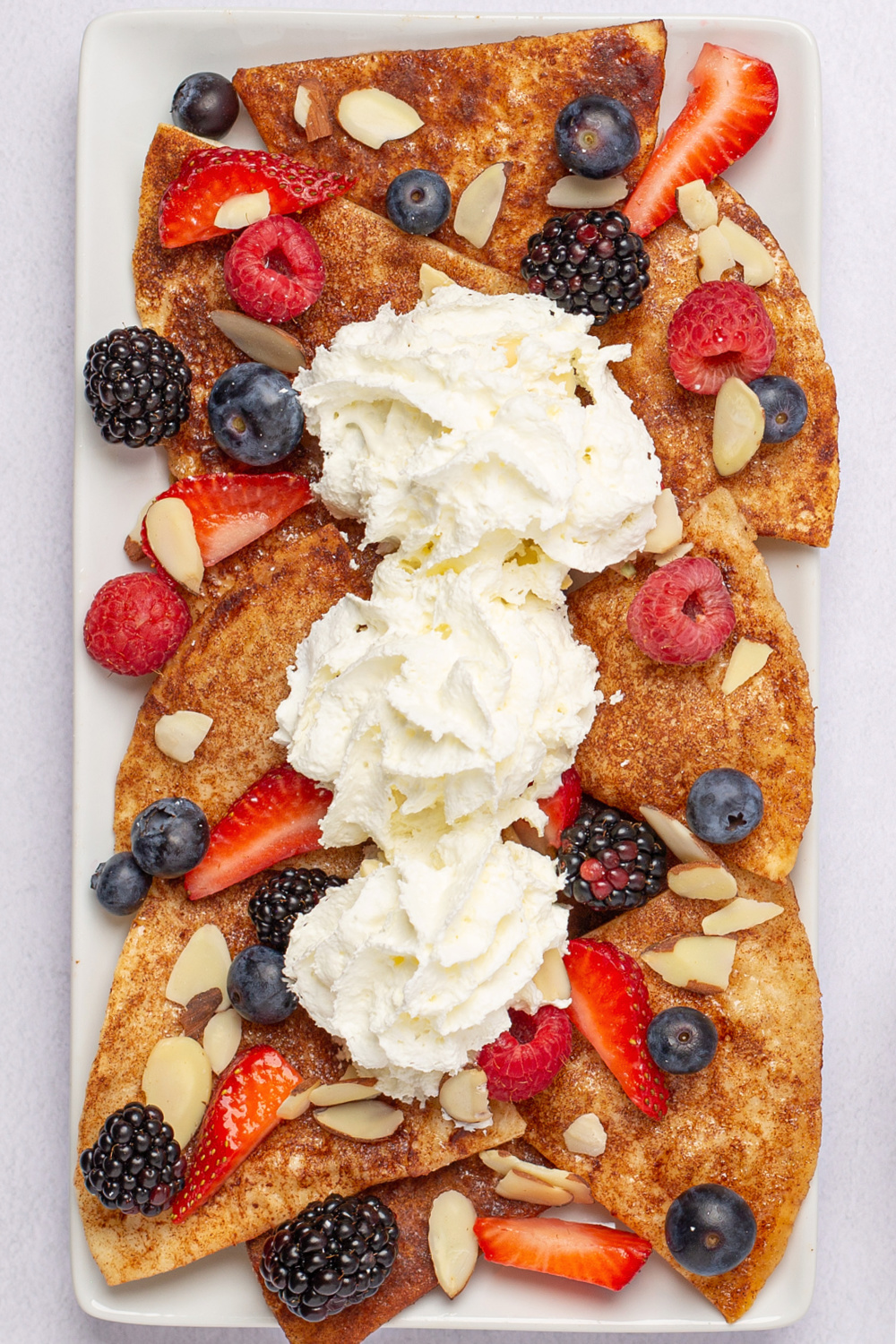 Mixed Berry Dessert Nachos
This recipe starts with baked tortilla chips. I brush them with butter, top them with cinnamon-sugar, and bake them to golden brown perfection. Then, I top them with sliced strawberries along with blueberries, raspberries, and blackberries. Finally, I finish it off with a sprinkling of nuts and a healthy dose of whipped cream. It all comes together to create a berry-licious dessert nacho recipe that has everyone coming back for more again and again. In fact, I make a double or triple batch of this when I take it to any kind of party. It just goes so fast!
Why You'll Love This Recipe
It's a light, mixed berry dessert that's just sweet enough.
It only uses a few simple ingredients.
It's super easy to make.
Everyone loves the combination of berries, nuts, and whipped cream with cinnamon-sugar tortilla chips.
Ingredients
You'll only need a few simple ingredients to make this recipe, and you'll find them all at your local grocery store. It only takes a few minutes to gather them all up! Be sure to check the recipe card at the end of the post for exact amounts.
Tortillas
Butter, melted
Granulated sugar
Cinnamon, my favorite
Strawberries, sliced
Blackberries
Raspberries
Blueberries
Whipped cream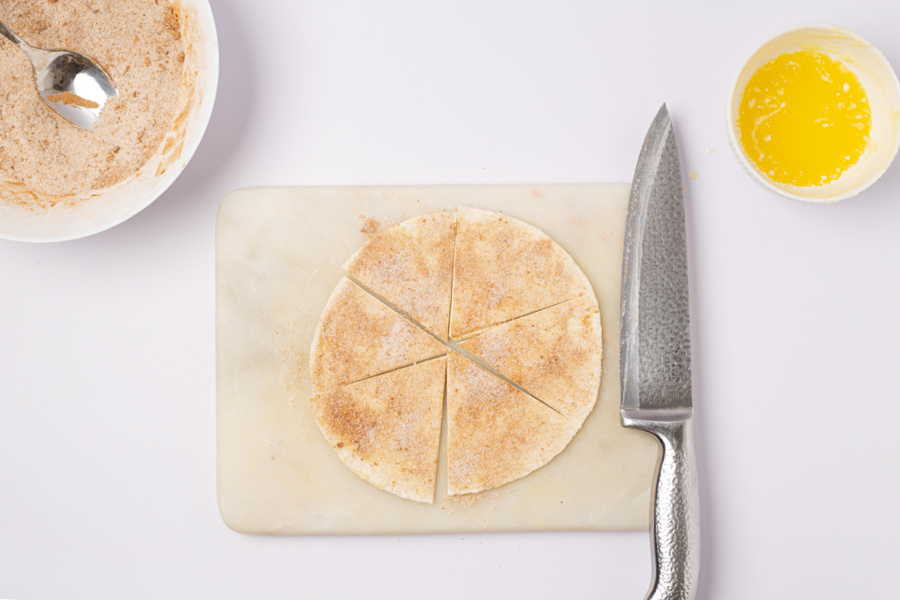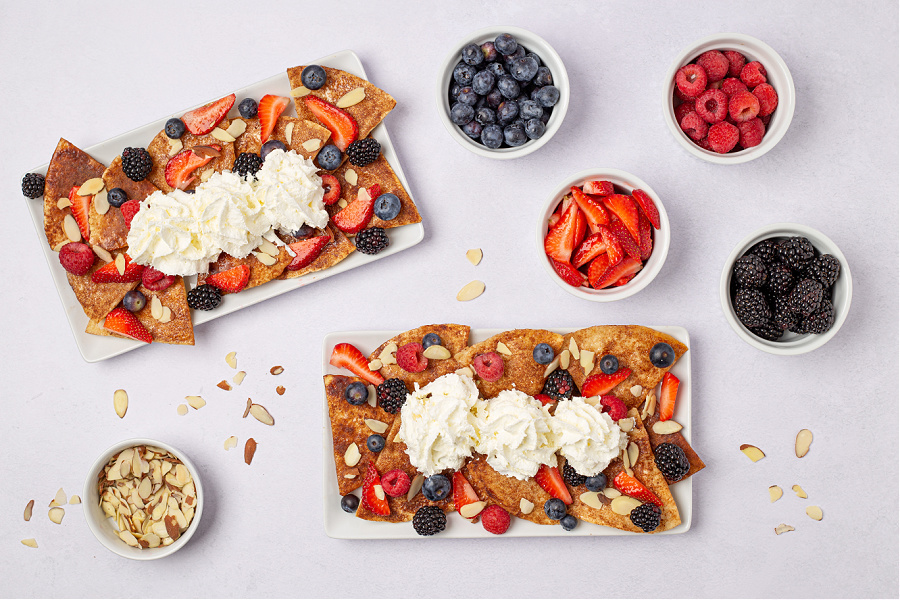 Instructions
This recipe is as easy to make as you might imagine from its description. It only takes a few minutes and a few simple steps. You'll be in and out of the kitchen in no time!
Step 1: Prep
Preheat the oven to 375 degrees and line a large sheet pan with parchment paper.
Step 2: Make the Tortilla Chips
Melt the butter in the microwave. Then, brush the tortillas with the melted butter and top with 1 to 2 tablespoons of cinnamon-sguar. Shake off the excess. Finally, use a sharp knife or a pizza cutter to cut the tortillas into 6 pieces.
Step 3: Bake
Place the tortilla chips on the prepared baking sheet and bake for about 12 minutes.
Step 4: Make the Mixed Berry Nachos
Let the tortilla chips cool completely, then, top them with mixed berries, almonds, and whipped cream. Enjoy!
Substitutions and Variations
You can make pita chips instead of tortilla chips for this recipe.
Add any of your favorite fruits to these nachos.
You can use margarine if you don't have butter.
Equipment
Storage
Room Temperature: Store the tortilla chips in an air-tight container for up to a week.
Refrigerator: Store the berries and whipped cream in separate containers for up to 5 days.
Make Ahead: Bake the tortilla chips and store them separately from the other ingredients. Then, when ready to make the nachos, top them with berries, nuts, and whipped cream.
What to Serve with Mixed Berry Dessert Nachos
These are the perfect sweet appetizer or dessert, and they make a great addition to a larger dessert spread at your parties and gatherings. Serve them alongside you other favorite sweet treats like:
Cookies
Cake
Pie
Cheesecake
Your other favorite sweets
Tips
Your tortillas may be a bit soft when you remove them from the oven. That's okay. They'll harden as they cool.
Don't wash your berries until you're ready to use them for maximum freshness.
Let your tortilla chips cool completely before topping them with the other ingredients.
FAQ
What are dessert nachos?
They're a type of dessert that features either sweetened tortilla chips or pita chips and then topped with a variety of dessert toppings, usually fruits and some kind of creamy mixture like cool whip or a cream cheese mixture.
Why are my berries soggy?
If you wash your berries when you bring them home rather than before you use them, they can get soggy or even go bad.
How do you slice strawberries?
Use a sharp knife to remove the crown, either by slicing the top off of the strawberry or cutting around the crown. Then, slice the strawberries in half. Finally, place the flat side of the half strawberry on the cutting board and slice it into even slices.
More Berry Desserts
If you like berries, then you'll want to check out these recipes.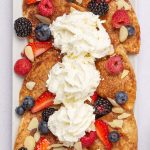 Mixed Berry Dessert Nachos
These dessert nachos are so scrumptious. Everyone loves when I serve these. It's got the crunch from the baked tortillas baked with cinnamon sugar. The fresh fruit makes this extra special. Add some whipped cream too!
Ingredients
5

flour tortillas

1/2

stick

salted butter, melted

3/4

cup

granulated sugar

1

tbsp

cinnamon, see my favorite ground cinnamon

1/2

cup

each, mixed berries. I used strawberries, cut into small pieces, whole blueberries, raspberries, and blackberries.

1/2

cup

sliced almonds

whipped cream for topping, I used aerosol
Instructions
Preheat the oven to 375 degrees. Line a large sheet pan with parchment paper.

Next, melt your butter. You can do so in the microwave or you can melt it in a small saucepan on the stovetop.

In another small bowl, combine the granulated sugar and cinnamon.

Brush the tortillas with the melted butter on one side, then sprinkle 1-2 Tablespoons of the cinnamon sugar on top of each. Shake off the extra.

Use a knife or a pizza cutter to cut the tortilla into 6 pieces. Put the tortilla chip pieces onto the lined baking sheet and bake for about 12 minutes. They may still feel a little soft when you take them out of the oven, but they will harden as they cool.

Once the chips have cooled, arrange them onto plates. Add your mixed berries, almonds, and whipped cream. Serve and enjoy!
Print recipe above in recipe card
Thanks for stopping by. I hope you try out this easy, fun, and yummy recipe. To save this and any recipe, you can pin on Pinterest. It's a great way to save and collect recipes for later on. Please visit again. There's so many more recipes to see both sweet and savory. New ones too. Before leaving, don't forget to scroll up to print out todays featured recipe.
Bye for now…
The highlighted equipment and ingredients are ones I used for this and many other recipes. It's only my suggestion.