With just one bowl and a handful of ingredients, you have a delectable chocolate chip cookie that stays chewy and happens to be vegan. Enjoy!
We have a bunch of cookie recipes here on the blog. I think the most are chocolate chip cookies. Well, of course! Aren't' they the most popular cookie recipe around? I read in a magazine that chocolate chip cookies were the most searched recipe on the internet year after year. It makes sense. What better than a warm from the oven cookie with gooey chocolate chips packed inside? I can't think of a better cookie myself. That brings me to these cookies. This particular recipe is vegan, meaning dairy and egg free. Just for the few that didn't know that. Don't get me wrong, there are plenty of amazing chocolate chip cookies that are made with eggs and dairy such as butter. We have some on the blog. But, these happen to be so simple to throw together and have the most delightful chewy texture even after a few days. They stay chewy. You won't believe how few ingredients these cookies have and how incredible they taste. Bake a batch soon and taste for yourself. They are a winner.
One Bowl Vegan Chewy Chocolate Chip Cookies
Ingredients:
1/4 cup coconut oil softened
1/4 cup vegan margarine, softened slightly
3/4 cup pure cane sugar or coconut sugar or combine the two
1/4 cup non dairy milk, I used almond milk
2 tsp vanilla extract
1 cup all purpose flour
3/4 cup whole wheat pastry flour
2 tsp baking powder
1/2 tsp fine sea salt
3/4 cup vegan chocolate chips
Directions:
Preheat oven 350 degrees, line two cookie sheets with parchment paper, set aside.
In a large mixing bowl, cream coconut oil and margarine.
Add in the rest of ingredients up until chips. Mix until all is combined. Dig down to the bottom of the bowl to incorporate all dry into wet ingredients. The batter should be light and airy. Add in chips.
Place in fridge for 1 hour or overnight.
With a medium cookie scoop, place 9 cookies on each cookie sheet. (They will spread out)
Bake for a about 8 to 10 minutes. They will spread out and be light brown. Cool in pan on wire rack for at least 15 – 20 minute or until they set up and you can lift with a spatula. Store in a container on counter up to 3 days.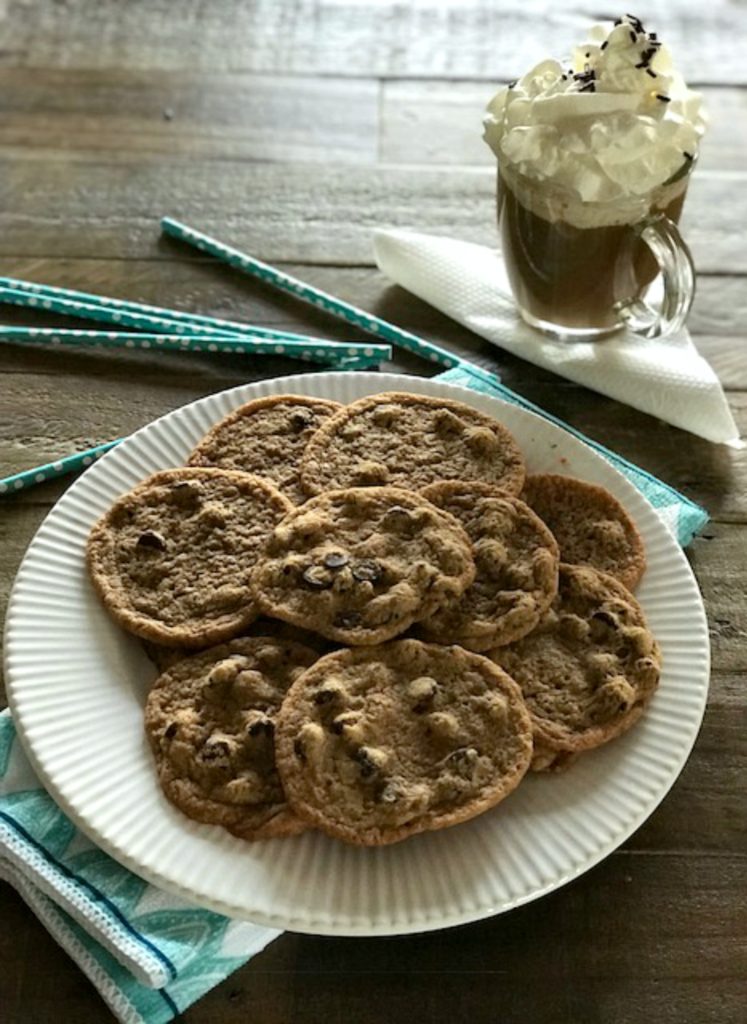 Enjoy the chewy yumminess!
Dipped in vegan hot chocolate topped with vegan whipped cream….Amazing!