Dalgona Whipped Coffee
This is the coffee beverage called Dalgona Whipped Coffee that everyone is talking about. A simple recipe that's creamy, dreamy, and luscious. A must to check out!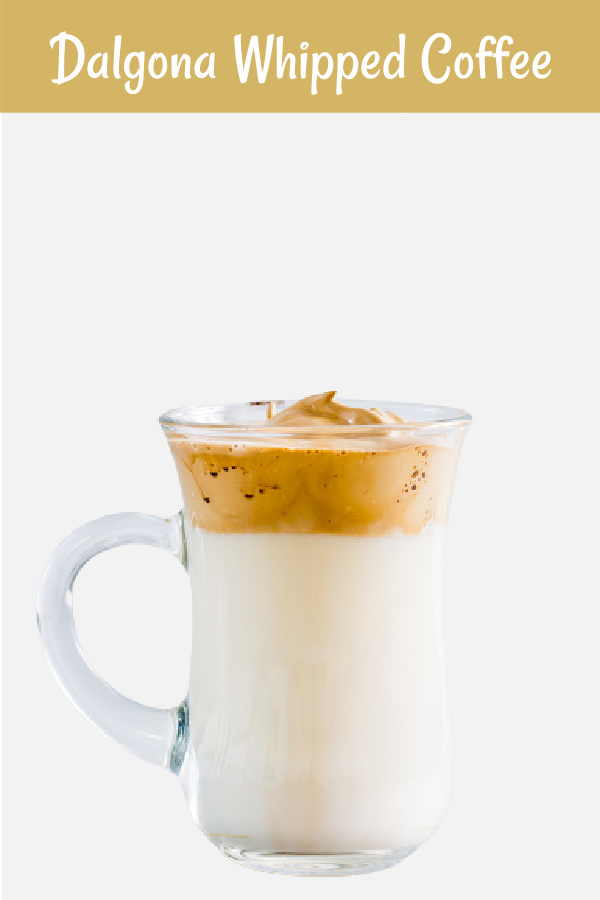 Have you seen the latest coffee craze, AKA Dalgona whipped coffee?
Seriously, everyone is talking about it or making it.
Made with four simple ingredients that most people will have in their pantry and fridge.
Four ingredients to coffee deliciousness…
Basically it's instant coffee, almost boiling water, sugar, and milk of choice. (You can make this without sugar and try a no calorie sweetener. I have not tried that. I do know that the sugar helps puff up the whip and keeps it fluffy for longer than without any sugar.)
That's all you need.
To enjoy the cold version, you want to add some ice cubes into the milk of choice.
For a hot version you would just omit the ice cubes and warm up the milk of choice before adding it to your mug.
Today's recipe that I'm sharing was made with regular skim milk. You can make this with whole milk and my favorite is made with almond milk. I love the creamy, almost nutty taste that almond milk brings to this wonderful coffee beverage.
From what I have read about this interesting beverage, it originated in South Korea where they make a candy called Dalgona that has a light and spongy texture and looks similar to a toffee candy. Some people say it reminds them of honeycomb candy.
The coffee whip is the color of the Dalgona candy.
The word Dalgona comes from the Korean word Dalguna which means "It's sweet"
In March and April of 2020 Dalgona Whipped Coffee was the most searched coffee drink on the internet. It's still very popular as I'm told.
Well, I had to try it and love this new way of having coffee. It's like a dessert and coffee in one.
Apparently, it takes a lot of strokes with a whisk to make this baby and that seemed a little extreme to me.
You can easily make this with a hand mixer or even a stand mixer and that's exactly how I make mine.
I used my everyday hand mixer. Then, when it looks just about whipped to your perfection, grab the whisk and use that to just feel the texture and whip a little by hand if needed.
The coffee whip took no time at all using this method.
Within a few minutes, you'll have a creamy, silky, whipped coffee delight.
All you need are the four simple ingredients that I mentioned above. That's it!
I couldn't believe how this coffee turned out when I made this the first time.
It's literally magic in a glass…
So different from any cup of coffee I had before.
Please check out my recipe below and hoping you enjoy this unusual way to enjoy coffee.
Dalgona Whipped Coffee
This recipe yields one to two servings
Here Are The Simple Everyday Ingredients To Make Whipped Coffee
Ingredients:
instant coffee, it must be instant coffee, brewed coffee won't work

boiling water

granulated sugar or you can use granulated sugar substitute (both are optional, you don't have to add any sweetener)

milk of choice mixed with ice cubes or heated up for a hot whipped coffee

full printable recipe with amounts below in recipe box
How Is Dalgona Whipped Coffee Made?
Here are the simple directions:
Have a large completely dry mixing bowl ready.
Mix coffee and sugar together in bowl.
Add in almost boiling water, or boil and let sit for a few minutes before adding to the instant coffee.
Using a hand or stand mixer, whip until the mixture doubles in size. This should take 2 to 3 minutes.
Fill one or two mugs with milk of choice. If using cold milk, add some ice cubes now. If using hot milk, heat in microwave or stove top until hot but not boiling.
Dollop on the luscious whipped coffee. Sit down with your mug and relax.
*Recipe note: Best when used within an hour of preparing.
Enjoy the coffee deliciousness
Here Are Some Optional Additions To Your Coffee Milk
There are many ways to enjoy whipped coffee. Some people say it reminds them of coffee ice cream, or a coffee whipped cream.
As you can see in the photos, I poured a cup of ice cold milk into one or two glasses and then topped it off with the magical whipped coffee.
When autumn hits, you can get in the seasonal spirit with a sprinkling of pumpkin spice added to your milk or coffee whip.
I also like to stir it around with a cinnamon stick. It's delectable on just as is, but the hint of cinnamon is really nice.
You can even add a sprinkle of cinnamon right on top of the whip.
Coffee whip is great as a topping to just about any dessert. Delicious on top of a brownie, pound cake, and even layered between lady fingers or sponge cake. If you like pudding, try this coffee whip instead of whipped cream. The skies the limit with this luscious coffee whip.
Thanks for stopping by! I hope you enjoyed todays featured recipe. It's totally creamy delicious. Remember to scroll down so you can print out the complete recipe in the recipe card. You can pin this and any of your favorite recipes on Pinterest to save for later on. Please stop back again soon, there are so many more recipes to see and new ones go up too.
Bye for now…
Print full recipe below
Dalgona Whipped Coffee
The most interesting way to enjoy coffee. This Dalgona Coffee is a real treat that's easily made.
Ingredients
2

tbsp

instant coffee

2

tbsp

Tbsp hot water, I heated up water until hot not boiling

2

tbsp

granulated sugar, brown sugar is nice too. No calorie sugar has not been tested on this blog. But, it should work like Splenda. No sugar works too.

milk of choice, daily, almond, oat milk all work

ice cubes if making this cold