Decadent Chocolate Fudge – You can have chocolate fudge and have it guilt free! This easy recipe tastes so decadent, no one but you will know that's it's lower in fat and calories. Enjoy every fudgy bite.

Hello friends. Here's an easy and decadent chocolate fudge recipe that's guilt free! This recipe is very versatile. You can make milk chocolate fudge or dark chocolate fudge. Mix the two for a different twist. When I created this recipe, I made it with both milk and dark chocolate because my husband and daughter like dark chocolate and my son likes milk chocolate. I like both! It's so easy to throw together for any occasion or no occasion. With only a few ingredients, you have the richest, most decadent fudge. I call the marshmallows my secret ingredient. Only a half of cup is all you need. it's just a great ingredient to keep the calories and fat down yet, still so delicious and rich tasting. Enjoy without the guilt. Savor every bite! Check out the nutritional's on a piece of these chocolate gems.
Nutrition: calories 90.3, fat 4.2 g, carbs 5.3 g, fiber less than 1 g, sugars 12.3 g, sodium 15.5 mg, protein 1.3 g
Decadent Chocolate Fudge
Makes 36 pieces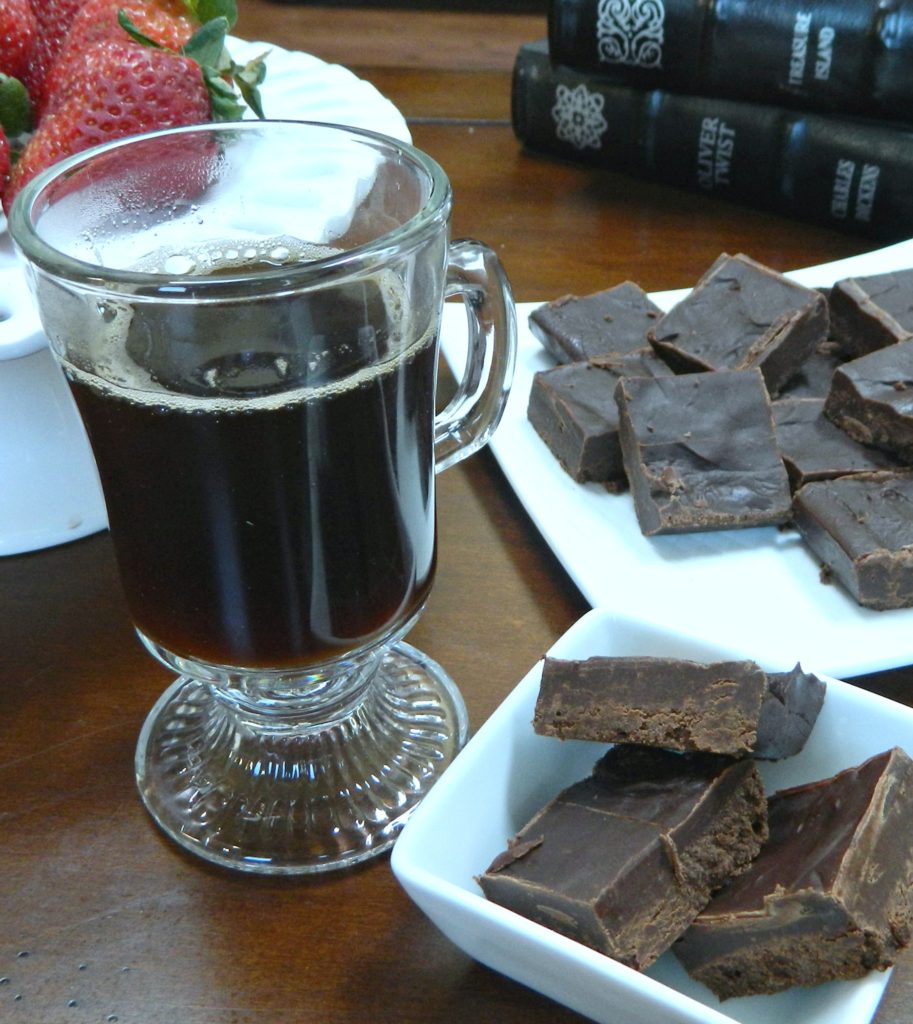 Ingredients:
3/4 cup super fine sugar, regular sugar will work too
2/3 cup evaporated skim milk, I used skim
2 Tbsp unsalted butter
2 cups semisweet or milk chocolate chips
1/2 cup mini marshmallows
1 tsp vanilla extract
pinch of sea salt
Directions:
Spray a 8 inch square pan with cooking spray. Line with parchment or wax paper with an overhang on two sides. Spray again and set aside.
In a large heavy saucepan, add the sugar, milk and butter. Bring to a boil. Stirring constantly. Reduce the heat to medium low and boil gently for about 3 to 4 minutes. Keep stirring often.
Add the chips and marshmallow along with the salt. Stir in for a minute then take off the heat and stir until nice and smooth. Add the vanilla extract and stir once or twice until fully mixed in.
Pour into the prepared pan and smooth out. Let cool on wire rack until completely cooled down. Then place in fridge for at least 2 to 3 hours.
Cut into 36 squares. Nice to serve with fresh fruit.