Copycat Chick-Fil-A Coleslaw
This recipe for Copycat Chick-Fil-A Coleslaw is so delicious and made in just one bowl. Check out the easy-peasy recipe below and enjoy every bite!
Are you a Chick-Fil-A fan?
My whole family are big fans of Chick-Fil-A.
They probably have tried every single item on their menu.
They recently opened up in a town close to my house. It takes about 15 to 20 minutes to get there and you won't believe how long the drive threw wait can be. We sat there 45 minutes one time and the shortest amount of time was an off time in the afternoon at 3 o'clock that was about 15 minutes.
A friend of mine said she sat on the line for over an hour. She said she stopped counting when it hit an hour.
Funny thing is, when we waited the 45 minutes and then ate in the car while the sandwiches were nice and hot, my husband said, "This was worth the time we sat and waited" Of course my son chimed in and agreed. Okay, yes it was worth the time. I mean, no one makes waffle fries like Chick-Fil-Lay.
Now, this recipe for Chick-Fil-A coleslaw was a staple on their menu from when they opened in 1946. It was called a different name up until the fast food restaurant was rebranded and renamed to Chick-Fil-A in 1967. So, what I was told is the coleslaw was one of their most popular side dishes but, in 2016 things changed.
They decided to take the coleslaw off the menu and bring on some different side dishes.
On January 17, 2016 was the last day their coleslaw was served.
As of January 18, 2016 it was officially off the menu in everyone of Chick-Fil-A restaurants around the country. So many people were on social media complaining.
There is a positive note about the coleslaw. Chick-Fil-A did such a nice thing for all the people that loved their coleslaw. They gave out the recipe. Since they have said this menu item will not be back. So now we can all make this delicious recipe at home and no one will miss out on the best coleslaw.
Are you ready to make some delicious coleslaw???
You are going to love how easy and simple the recipe is and, seriously this copycat recipe tastes just like the original. I hope you will try my recipe that has only six ingredients and four simple steps. That's it!
Copycat Chick-Fil-A Coleslaw
Yields: 6 to 8 servings
There Are Only Six Simple Ingredients To Make This Delicious Chick-Fil-A Coleslaw
At a glance, here are the six ingredients
shredded coleslaw mix
mayonnaise
white vinegar
granulated sugar
dry mustard
sea or kosher salt
full printable recipe with amounts found in the recipe box below
Ready to get mixed up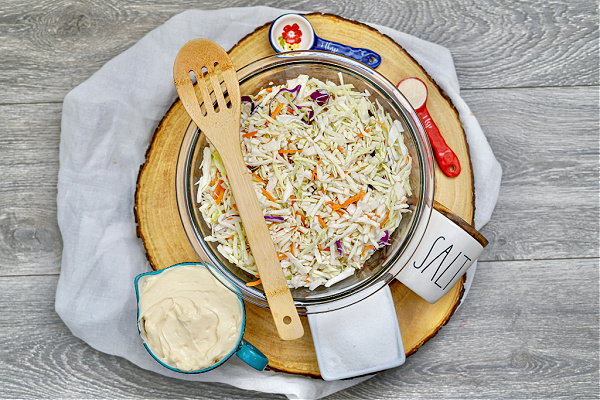 Look at that creamy dressing
Here's How This Delicious Coleslaw Is Made
Directions
1. Place cabbage in a large bowl.
2.In a small mixing bowl, whisk together mayonnaise, vinegar, sugar, dry mustard, and salt.
3.Pour dressing into the cabbage bowl.
4.Toss to coat.
5.Cover and refrigerate for 2 hours to 3 hours. This is important for all the flavors to meld.
Enjoy the deliciousness
Wait! Before leaving, check out a few more cool salad recipes
You can print the full recipe below in the recipe box
Copycat Chick-Fil-A Coleslaw
This coleslaw recipe has only 6 ingredients and tastes so similar as the original.
Ingredients
1

cup

mayo

4

teaspoons

white vinegar

1/4

cup

granulated sugar

1/4

teaspoon

dry mustard

1/4 - 1/2

teaspoon

sea or kosher salt

2

10-12 ounce

bags shredded coleslaw
Instructions
Place cabbage in a large bowl. In a small mixing bowl, whisk together mayonnaise, vinegar, sugar, dry mustard, and salt. Pour dressing into the cabbage bowl. Toss to coat. Cover and refrigerate for 2 to 3 hours. Enjoy!
You don't have to miss Chick-Fil-A coleslaw anymore, make this easy-peasy recipe
Thanks for stopping by today! I hope you saw some yummy recipes to save and share. Remember, scroll up so you can print out the featured recipe. Please hop on over again soon. There are so many more recipes to see, both sweet and savory. In the meantime, you can pin any favorite recipe on Pinterest to save for later on.
Bye for now…