A copycat recipe that tastes just like the fried rice you get at your favorite Chinese restaurant. So simple and so delicious. Enjoy!
Recently I was introduced to the most delicious ready-made rice product. Called VeeTee https://www.veetee.com/us/ It's like no other rice you have tried before. Cooks in only 2 minutes in your microwave and comes out tasting terrific. Just last week I made a "Creamy Dreamy Rice Pudding" using VeeTee's long grain rice. The recipe took no time at all because of this delicious rice product. Today I'm using their Basmati for this fried rice recipe. Again, really easy to prepare and the rice was fluffy and perfect. Try this simple copycat recipe out and fool your family the way I did into thinking it was takeout.
Copycat Takeout Fried Rice
Yields: 6 to 8 side dish servings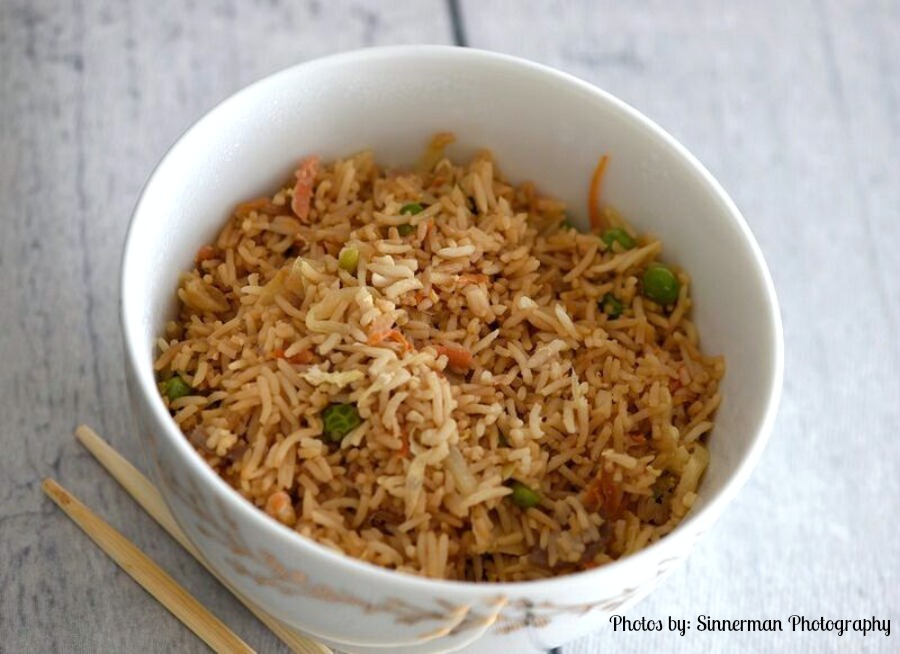 Ingredients:
2 tbsp butter
2 large eggs lightly beaten
2 cloves chopped garlic
1 small onion chopped
1 to 2 green onions/scallions sliced thinly
1 cup shredded cabbage and carrot mixture I used prepackaged shredded coleslaw
3/4 cup frozen peas, you don't have to thaw
4 cups cooked rice, my favorite VeeTee https://www.veetee.com/us/
1/3 cup low sodium soy sauce
2 tbsp dark sesame oil
1/2 tsp brown or granulated sugar, optional
1/2 tsp red pepper flakes, optional
1/4 tsp black pepper
Directions: Cook rice according to directions on package. I use 3 pouches of VeeTee. https://www.veetee.com/us Measure out 3 cups then set aside when done cooking.
In a large nonstick skillet over medium heat, add one tablespoon of butter. When melted add beaten eggs and cook until scrambled. Take out and set aside.
Add in another tablespoon butter along with onion and cabbage mixture. Cook until tender. Add in garlic and cook just until you smell the garlic. Then add in sugar if using.
Add in cooked rice along with the scrambled eggs and frozen peas. Turn the heat up just a little. Cook for about 3 minutes while you are tossing the rice into the veggie mixture. Add in soy sauce. Toss and coat rice mixture. Add more if needed. Add in sesame oil, black pepper and pepper flakes if using. Stir well to incorporate all the rice and eggs into the sauces. Toss in green onions and save a few for garnish. Stir once more then plate up. Sprinkle remaining green onions over top. Enjoy!