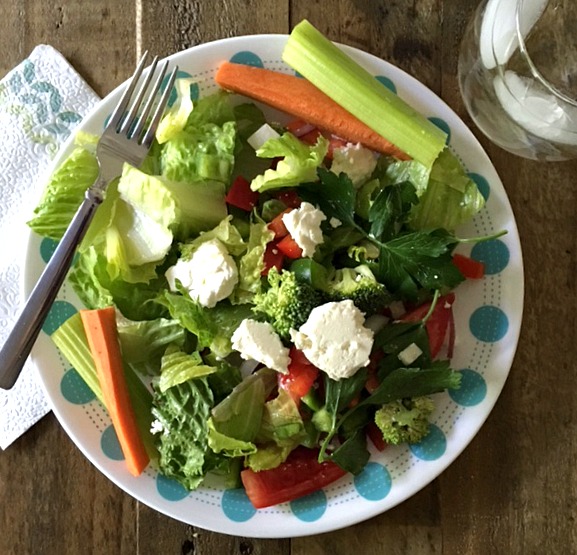 If you are like me and love restaurant Greek salads, you will absolutely love this simple homemade version along with a light tangy dressing. (Dressing recipe below but photo of dressing is not shown)
Simple Restaurant Style Greek Salad
Servings – 1 large salad
Ingredients:
3 cups chopped or sliced romaine lettuce
1 cups mixed greens, whatever is your preference
1/2 cup sliced red or green pepper
1/4 red onion chopped
1/4 cup broccoli florets, optional
1/4 cup cubed cucumbers
4 tbsp fresh parsley leaves
1/2 cup feta cheese, either crumbled or cut into large chunks
celery and carrots sticks, optional
Dressing Ingredients:
2 tbsp olive oil
2 tbsp or more red wine vinegar
1/4 tsp Kosher or sea salt
1/8 tsp ground pepper
1/2 tsp dried oregano
dash garlic and onion powder
1/4 Dijon mustard
1-2 tbp cold water if needed for consistency
1/2 tsp honey, optional
Directions:
In a large serving bowl layer all veggies starting with lettuces.
Crumble cheese over top of salad.
Toss all dressing ingredients a small mason jar or any clean empty jar. Shake well. Pour desired amount over salad.
Toss and enjoy!