This Oreo poke cake is so easy to make! This simple cookies n cream poke cake recipe is always a hit with people of every age. Honestly, any kind of Oreo punch bowl dessert or anything made with Oreos has to be delicious. And this Oreo poke cake with Oreo pudding is at the top of my list.
Bake one of these beauties today and enjoy every bite!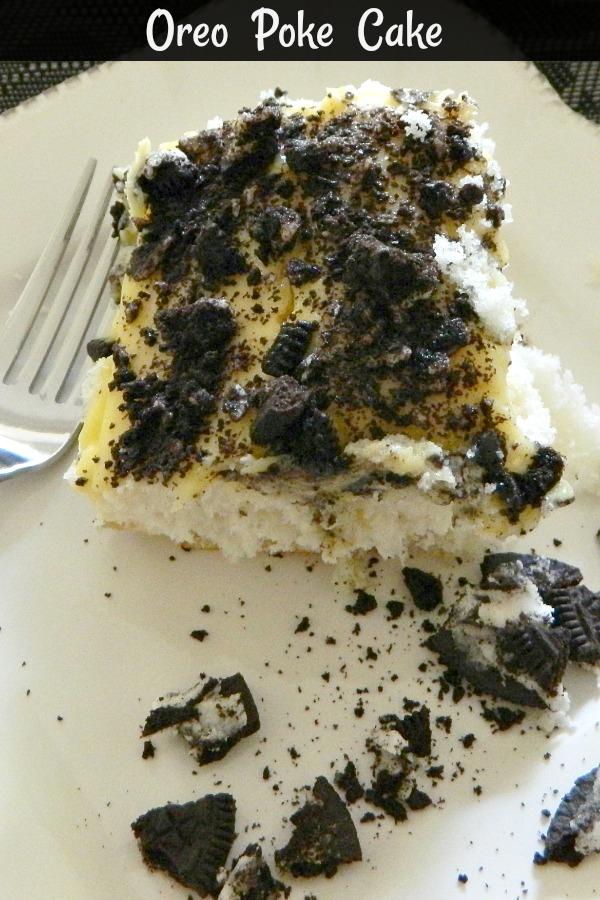 Oreo Poke Cake
I made this Oreo poke cake with vanilla pudding on Sunday while my family was at the park and it was a real treat for them to come home and have this waiting for them.
My husband and kids loved this Oreo poke cake recipe and they all said it was really light yet moist.
I served large pieces for each of them, and for me of course.
Since it was a lighter cake from the cake mix, it didn't feel heavy.
I love this Oreo cookie poke cake mix and I think whatever you put into it always seems to turn out amazing.
This cookies n cream poke cake will definitely be on my holiday dessert list.
You will love how easy it is to prepare.
Make sure you print the recipe out below so you have it when you want a really easy recipe for a most delicious Oreo poke cake.
Oreo Poke Cake with Oreo Pudding
This is a fun and versatile recipe that works with pretty much any type of cake mix. That's because this Oreo poke cake uses a box mix, and you can choose any which one you like!
And for Oreo poke cake with vanilla pudding, use vanilla pudding mix! If you're thinking you want to try a different pudding flavor then that's totally your call.
Make sure to have at least 20 Oreo cookies on hand for this Oreo poke cake. And of course, the more Oreos, the better.
Poke cakes are a type of cake that's baked and then poked. Once you've poked holes in your freshly baked cake, you fill them with liquid like syrup or pudding to add extra flavor and moisture. Every bite is amazing and they're so easy!
This Oreo poke cake recipe calls for vanilla pudding, but there are other fillings that also work great with poke cakes.
Pureed fruit
Condensed milk
Caramel sauce
Chocolate sauce
Cream
Pudding
Once your cake is baked and slightly cooled you poke small circular holes into your cake with the handle of a wooden spoon or a skewer.
Oreo Poke Cake
Yields: 16 pieces
Cookies n Cream Poke Cake Recipe
Ingredients:
1 box super moist cake mix, you can use any of the white or yellow mixes plus ingredients on box
1 tsp vanilla extract
Pudding frosting:
2 cups cold milk
1 box small box instant vanilla pudding mix, I used sugar free
1/2 tsp vanilla extract for the pudding mix
20 Oreo cookies, chopped into medium size pieces
Enjoy the

Oreo poke cake

deliciousness!
Here are a few more delicious Oreo recipe delights…..
Oreo Poke Cake
This is such a simple recipe for an Oreo Cookies and Cream Poke Cake. Anything made with Oreo's has to be delicious and this cake is at the top of my list along with my whole family. Bake one of these beauties and enjoy every Oreo bite!
Ingredients
1

box

super moist cake mix — you can use any of the white or yellow mixes plus ingredients on box

1

tsp

vanilla extract
Pudding Frosting
1

small box

instant vanilla pudding, regular or sugar free

2

cups

cold milk

1/2

tsp

vanilla extract

20

Oreo cookies chopped
Instructions
1.Preheat oven 350 degrees; mist a 9 x 13 baking pan with cooking spray and set aside.

2.In a large mixing bowl combine cake mix with ingredients.

3.Using an electric mixer beat for about 2 minutes until batter is light and fluffy. Make sure you mix in all the dry ingredients that may still be on the bottom of the bowl (use a rubber spatula for this).

4. Pour into prepared baking pan. Bake as per directed on box and when a toothpick or wooden skewer comes out clean or with dry crumbs. Turn the pan around after 15 minutes for even baking. Try not to over bake.

5.Let cool about 10 minutes then poke holes in the cake with the tip of a wooden spoon. Set aside. In the meantime get your frosting ready. In a medium bowl, beat the pudding mix and 1/2 tsp of vanilla extract, until thickened. I pour the pudding mixture into a large measuring cup but, if you can't fit all the pudding into the cup just keep it in the bowl and pour in two batches.

6.Pour pudding all over the cake and spread evenly. Toss the Oreo pieces all around the topping and place in the fridge for about an hour. Take out and slice 16 large pieces. Ready to serve! Enjoy!
Love Oreo cookies!
Thanks for stopping by today. I hope you enjoyed the recipes posted. Please stop back again soon. There's so many more recipes to see both sweet and savory. New ones too! In the meantime, please share your favorites with family and friends and pin away on Pinterest to save for later on.
Bye for now…