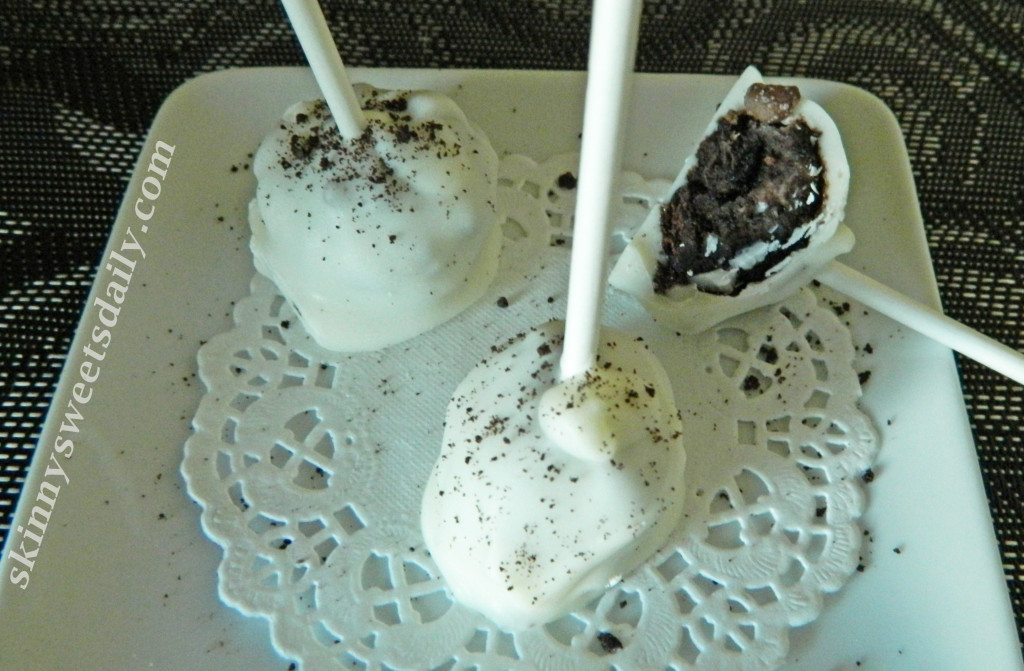 This weekend was such a great one around here. My sister Rhonda and my niece Wendy and her two adorable daughters, my great nieces, Zoey and Eva came to visit. Eva the little one is the same age as my Josh. Both will be turning seven this summer. They were born four days apart. (I know my big sister wished she could have been in two places at once that year) We celebrate their birthdays together every year and it's always a special time for all of us. They live up in Rhode Island and we are here on Long Island. So we try very hard to get together as many times as we can. They just left and I miss them already and can't wait until we go to visit them the next time.
Well, while the kids were here, I wanted to make something special for them. I know both girls love Oreos. If you have seen our blog; you know we already have a recipe for Oreo balls. It's one of our most popular recipes. This new one uses two kinds of Oreo cookies and has a coating of white chocolate for a nice rich taste. To say the least, they were a huge hit with everyone. I hope you give this a go and enjoy them as much as we did and will again and again!
Nutrition: calories 59.7, fat 2.6 g, carbs 8.4 g, fiber 0.2 g, sugars 5.9 g, sodium 58.1 mg, protein 1 g
Ingredients:
15 Oreo cookies, crushed up
1 8-ounce block reduced fat cream cheese, softened
4 Tbsps powdered sugar
1 tsp vanilla extract, use a good quality for best taste
2-3 4-ounce Ghirardelli white chocolate premium-baking bars, do not use white chocolate chips, they will not melt properly.
1 pack Oreo 100 calorie crisps
Directions:
Place a cookie sheet lined with parchment or wax paper in the fridge while preparing the mixture.
Place the Oreo cookies (save the snaps for later) in a zip lock bag and with the bottom of a heavy saucepan or a rolling pin, roll over the bag and crunch up the cookies. It's okay to have some small chunks.
Place the cream cheese in a large mixing bowl along with the vanilla extract and with a electric mixer, blend until combined. Add the powdered sugar and mix again. Now add the cookie crumbs and mix gently and combine well.
Cover the bowl and place in fridge for about one to two hours or until set up enough to roll into balls.
In the meantime, take the one bag of Oreo crisps and place in a small zip lock bag and crunch up the same as you did with the other cookies; set aside until ready to use.
Take the cookie sheet out of the fridge along with the cream cheese mixture and roll into 28 balls. When that's done, start dropping them into the bag with the crumbs and shake slightly just to lightly coat each ball.
Place on the cookie sheet and put back in the fridge for about half hour to an hour.
Before you take out of the fridge, melt your white chocolate as directed on the bar's directions or break up into small , place in a microwave safe dish and heat at 20 to 30 second intervals until smooth and shiny. Do not over heat.
Take a lollypop stick and dip the tip into the chocolate then into the pop (This acts as a glue to keep the pop on the stick). Then dip into the chocolate or spoon the chocolate over each one to make a light coating. (If the chocolate starts to set up, you can reheat in the microwave to soften for about 20 seconds.)
Place on the cookie sheet and sprinkle with any extra crumbs if you want. Put back in the fridge for about fifteen minutes or until set.
Store in fridge up to 3 days.