Wholesome and delicious is what these cookies are all about. A great chocolate chip cookie made with flax meal for added goodness and texture. Add in some chocolate chips and you have a fabulous cookie that everyone will love. Bake a batch today and enjoy!
These cookies are so yummy and made with healthy ingredients. I never thought my son and husband would like this one but, they did. We were taking a road trip and these were all that I brought to eat for a snack. I was so happy when they both said they loved them and asked me to make them again. Now I freeze them individually and pop them out for my sons lunch box and my husband grabs one or two whenever he wants. I think I'm going to send these to my daughter up at college with her next care package. I know she will love them. Try these soon, bet you all will love them like we do. Healthy can and is delish!
Wholesome Chocolate Chip Flax Cookies
Yields: 24 cookies
Nutrition: calories 75, fat 4.3 g, carbs 8.9 g, fiber 1 g, sugars 3.7 g, sodium 78 mg, protein 1.2 g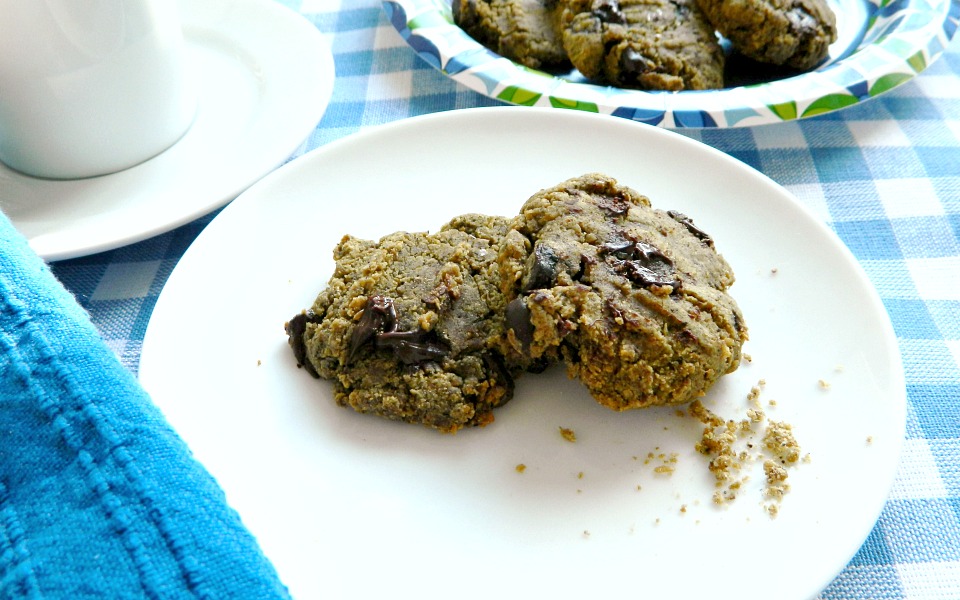 Ingredients:
1/3 cup natural buttery vegan spread
1/2 cup plus 2 tablespoons date or coconut sugar
1 or 2 packets all natural Stevia to taste or you can leave out
1/2 cup unsweetened applesauce, I use baby food applesauce
1 cup oat flour
1/2 cup brown rice flour
1/4 cup golden flax meal, I used King Arthur
3/4 tsp baking soda
1/2 to 3/4 tsp ground cinnamon
1 tsp vanilla extract
1/4 tsp fine sea salt
1/2 cup plus 2 tbsp mini vegan chocolate chips
Directions:
Preheat oven to 360 degrees, line 2 baking sheets with parchment paper and set aside.
In a large mixing bowl, cream the butter and 1/4 cup of sugar until fluffy. Add in the applesauce, stevia and vanilla extract.
Add in the rest of the ingredients except the chips and mix well. Dig deep to make sure all the dry ingredients are well incorporated into the batter. Now fold in the chocolate chips.
Place the batter in the fridge for about 15 minutes.
Take out and scoop out into 24 small mounds. With moist fingers, press down a little to flatten. Sprinkle the 2 tablespoons of sugar over the top of each cookie.
Bake for about 11 to 15 minutes until the cookies are nice and light brown and a bit crispy. The bottoms should be brown as well. Rotate the pans after 5 minutes for even baking.