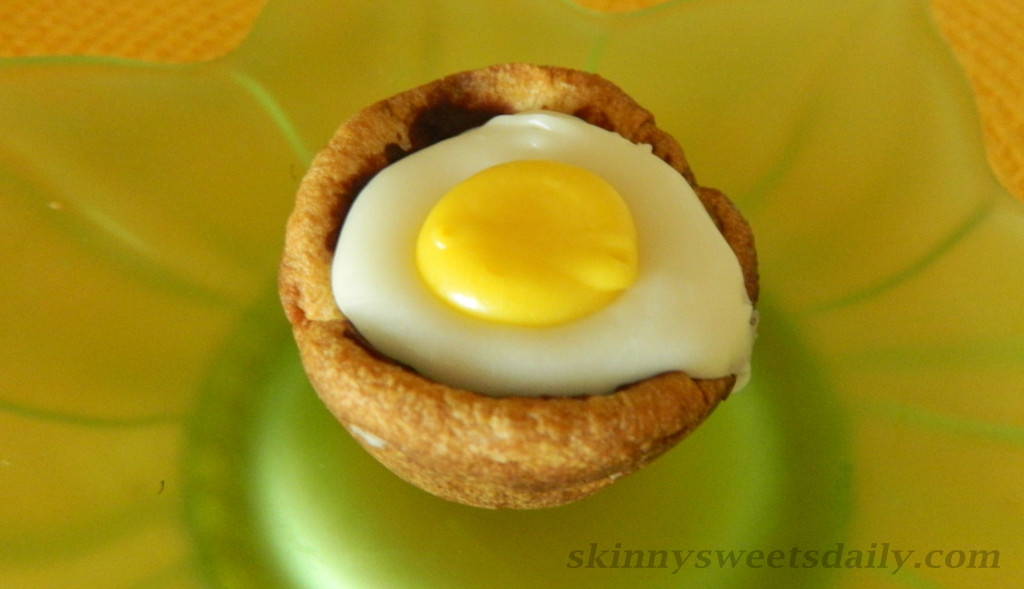 I recently made these around Easter. They reminded me of the Cadbury chocolate eggs. I wanted to make this into a cookie with a candy filling and this is what I came up with. The filling really does taste just like the inside of a Cadbury center. Creamy and yummy. I'm using one of my favorite products. Pillsbury Reduced Fat Crescent Rolls. We all liked the slightly salty cookie crust with the sweet and creamy filling. On top of all that, they are so cute! Give this fun recipe a try. It's great to make with the kids.
Nutrition: calories 133.5, fat 4.4 g, carbs 21.8 g, fiber 0.1 g, sugars 18.6 g, sodium 117.8 mg, protein 1.3 g
Sweet Creamy "Cadbury" Eggs In A Cookie Cup
Ingredients:
1 tube Pillsbury Reduced Fat Crescent Rolls, keep in fridge until ready to use
1 1/2 cups powdered sugar, sifted
5 Tbsp Land O' Lakes unsalted butter, softened to room temperature
1/4 cup light corn syrup plus 1 Tbsp
1/4 cup milk or semisweet chocolate chips
1 to 2 Tbsp milk, I used almond milk but you can use dairy milk
1 1/4 tsp vanilla extract
1/4 tsp salt
A few drops yellow food coloring
Directions:
Preheat oven to 325 degrees. Spray a non-stick muffin pan with cooking spray and set aside for a few minutes.
Open the tube of crescent rolls. Roll out and place on a clean surface. Cut each crescent in two pieces.
Roll each piece into a ball then place in the muffin pan and form into a cup.
Take a melon scoop or a small cookie scoop and spray the back with cooking spray and press into the cup to make a bigger indentation.
Bake for about 15 to 17 minutes. Rotate after 10 minutes. Take out when the crust is lightly golden brown. Try not to over bake and burn the bottoms.
Spray the mini scoop again and press into each cup to make the cup a little wider. Place on cooling rack and let cool completely.
Now for the filling, in a large mixing bowl, using an electric mixer, combine the softened butter and corn syrup until smooth.
Add the vanilla extract and salt, slowly add the powdered sugar. Continue to mix until smooth and creamy.
Remove a small amount of the filling and place in a small bowl, add the yellow food coloring and mix until well blended and the color of a yolk. Set all the filling aside.
Heat the milk in the microwave until hot, about 15 seconds. Pour over the chocolate chips and mix until well combined. I used a small wire whisk. The chocolate should be nice and glossy.
With a food safe paintbrush or a small spoon, brush the sides and bottom of each cup. Let set up for a few minutes.
Spoon the white creamy filling into each cup.
Take the yellow filling and place into a zip lock bag. Snip the bottom and make a small dollop into the middle of the white filling.
You're done! Enjoy!!
Makes 16 cups