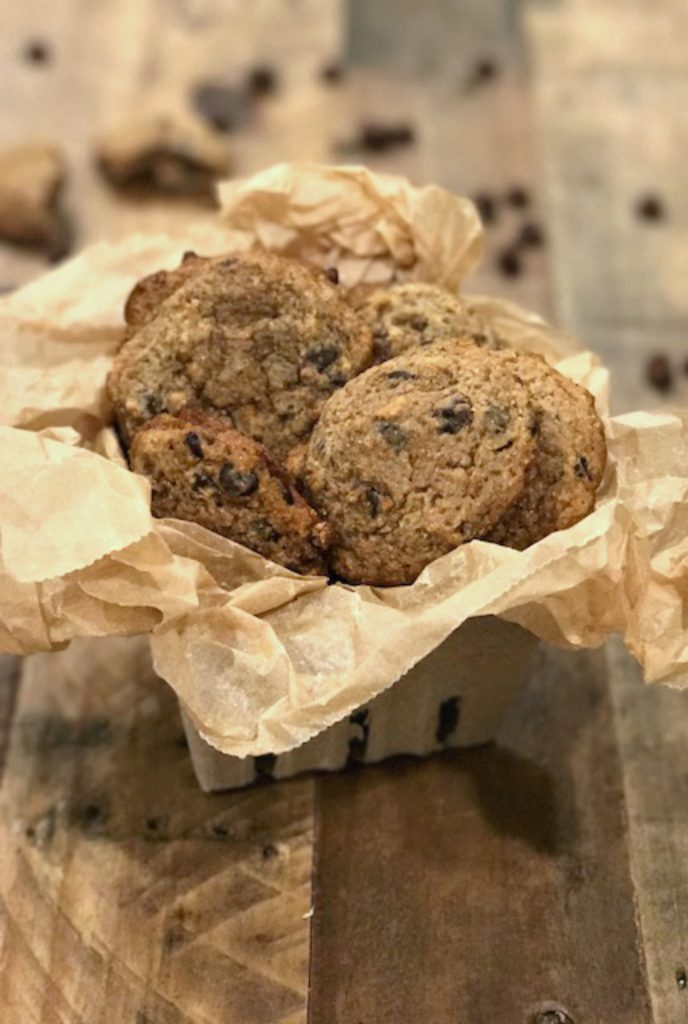 There are a bunch of chocolate chip cookie recipes on this blog. All are really tasty and delicious. All pretty much totally different from one another. There are a few vegan cookie recipes already but, there's always room for more.
Being a vegan, I'm always looking for new recipes and on the top of the list has to be chocolate chip cookies. This one was just created yesterday. We happened to meet my daughter Tori who's now back on Long Island and going to Law School for dinner last night. The taste test was going to happen right after we all finished a delicious Italian dinner. I whipped these out and gave my hubby, son Josh and Tori two cookies each. I figured one is never enough and if they really liked the cookies they would want another on anyway. Thumbs up from all of them!
I asked them to describe the texture. My daughter described them as soft and pillowy. My husband said soft and my son said chewy. So, since I brought a care package for my daughter and since she really liked these. I gave her the rest of them for her and her roommates to enjoy. I was so glad both my husband and son both said practically at the same time "what about us" Promised them as soon as we got home I would bake another batch. That's what I did. Oh my, I must have had at least 5 of these cookies between the first and second batch. They really are delicious! Bake a batch today and watch them disappear.
Soft and Chewy Vegan Chocolate Chip Cookies
Yields about 15 to 16 cookies – This recipe is easily doubled.
Ingredients:
1 stick vegan butter, kept cold
1/4 cup whole wheat pastry flour
1 cup all purpose flour, I used organic, you can use all purpose flour instead of the pastry flour
1/4 cup light brown sugar packed, I used organic
1/4 cup pure cane sugar
1/8 cup almond milk or any plant based milk
1 level tbsp flax meal mixed with 2 tbsp water, set aside for 5 minutes to thicken (You can leave this out if you don't have flaxmeal. The cookies will still be delish)
1 tsp vanilla extract
1/2 tsp baking soda
1/4 tsp sea salt
1 cup vegan chocolate chips
1/2 cup nuts, optional
Directions:
Preheat oven to 325 degrees, line two cookie sheets with parchment paper. Set aside. My suggestion, bake each cookie sheet separately for best results.
In a stand mixer or large mixing bowl using a hand held mixer, mix vegan butter until starts to break up. Add in sugars one at a time. Mix until it's starting to get fluffy. It may look separated. that's okay.
Add vanilla extract
Add in flours, salt and baking soda along with the flax mixture if using.
When batter is fluffy and mixed completely. Stop the mixing.
Fold in chips and nuts if using.
With a medium cookie scoop, place 12 cookies on first baking pan. Bake for about 9 to 11 minutes. Turn pan around after 5 minutes. Check after 9 minutes. Cookies should still be soft in the middle, lightly browned and edges should be done. Take out and let cool on pan on a wired cooling rack. After about 15 minutes, cookies should have firmed up enough to handle.
Enjoy these warm from the oven vegan wonders!
Store up to 2 days on counter or in fridge up to 4 days. (They won't last that long I'm sure)