Very berry and very delicious. Try this simple recipe for a healthy, sweet pizza idea. Enjoy!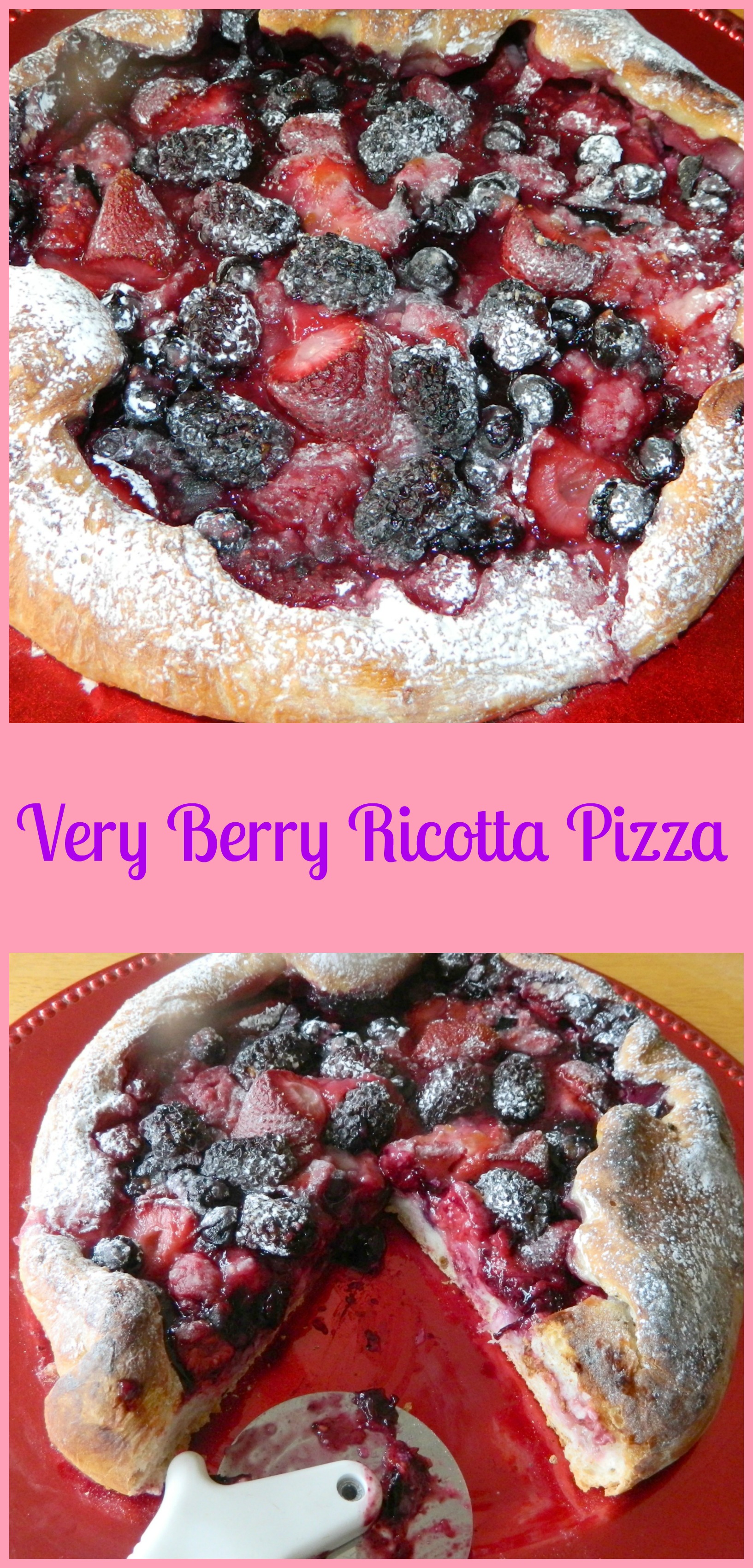 This recipe was a big hit with our friends recently. I wanted to serve a fun, easy dessert with fruit for a get together at my house. Looking for inspiration, I searched through my old recipes and found this one from many years ago when I had my catering business. I was so excited to make this again and it turned out great!
Nutrition: calories 199.3, fat 1.7 g, carbs 39.9 g, fiber 1.8 g, sugar 11.7 g, sodium 133.4 mg, protein 6.2 g
Ingredients:
1 frozen or refrigerated pizza dough — found at your local grocery store
2-2 1/2 cups of fresh berries — I used strawberries, blackberries, and blueberries but you can also use stone fruit in season such as peaches or plums
1/4 cup part skim ricotta cheese
1/4 cup super fine sugar, or granulated sugar
3 tbsp flour
1 1/2 tbsp Polaner All Fruit 100% All Natural Fruit Spread — I used peach
1 tbsp sugar
Directions:
Preheat oven to 375 degrees; line a cookie sheet with parchment paper and lightly mist with cooking spray.
Take the dough out of the package and stretch it on the baking pan to make an 11-12 inch circle. Don't worry if it is messy, it gives it a rustic look. Set aside for a few minutes.
In a large mixing bowl, toss in the fruit (washed and dried) with the flour and sugar. Let that sit for a couple of minutes.
Spread the ricotta cheese over the dough. Gently place the fruit over the ricotta cheese and leave a 1 inch border around the edges of dough.
Pull the edges of the dough up and over the fruit to form a rustic crust. Set aside for just a few seconds while you get the fruit spread ready.
In a microwave safe dish, heat the fruit spread in the microwave for about 10 seconds.
With a pastry brush, spread the fruit spread over the crust and a little over the fruit itself.
Sprinkle 1 tbsp sugar over the fruit.
Bake the pizza for about 30 to 40 minutes. Check the pizza after 20 minutes. If the crust is getting too dark, lower the oven to 350 degrees and continue to bake and turn the pan around for even baking. The crust should be crisp and the fruit should be bubbling. Serve warm and enjoy this wonderful treat!