Shortcut Meatball Pot Pie Casserole
Here's a quick, easy and hearty meal idea using pantry and freezer ingredients. A great weeknight or potluck dinner idea. Enjoy this wonderful recipe with your family!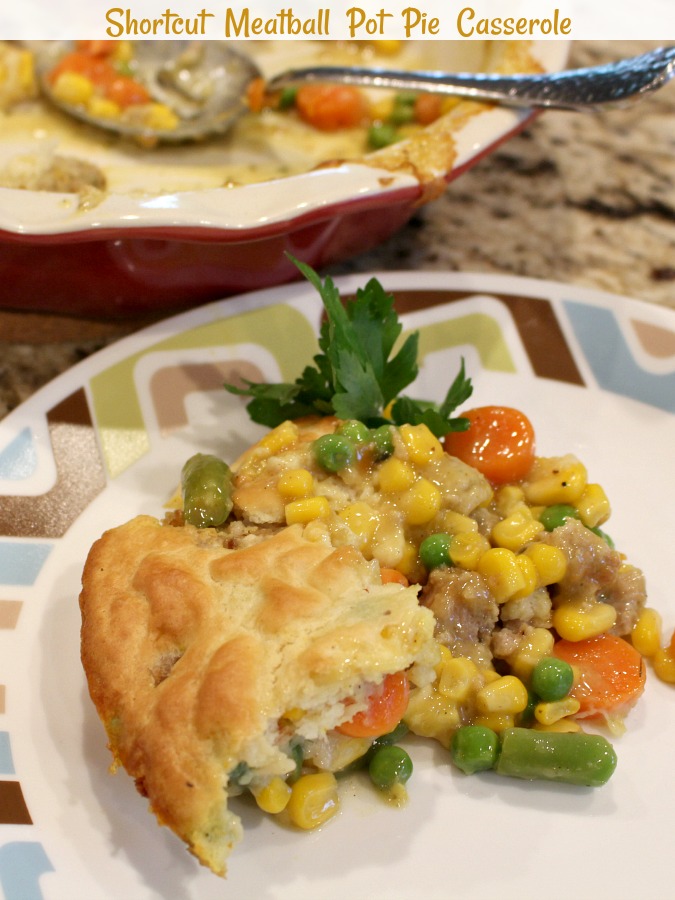 When short on time, look in your freezer and pantry.
You will probably find ingredients you forgot about and can easily put something together for a nice meal.
Anyone who has been on this blog before will know how much I love using Bisquick for all kinds of recipes both sweet and savory.
It's my most favorite ingredient. Check out below for more Bisquick recipes.
This recipe is on the top of my list for a quick, and easy shortcut meal idea.
It's now a staple as a weeknight meal for my family.
Also, great for large potluck dinners too. Double or triple the recipe and your company will love it.
See how simple and easy this recipe is and how hearty and delicious too. Then once you take your first bite you'll know what I'm talking about.
Shortcut Meatball Pot Pie Casserole
Yields 4 to 6 servings
Directions:
Eat up and enjoy!
Here's a quick, easy and hearty meal idea using pantry and freezer ingredients. A great weeknight or potluck dinner idea. Enjoy the deliciousness!
Ingredients
3

cups

frozen mixed vegetables thawed slightly

8-10

frozen meatballs, cut in halves or quarters, I used Trader Joe's turkey meatballs, slightly thawed

1

jar or can chicken or turkey gravy

1

cup

Bisquick, regular or Heart Healthy both work

1/2

cup

milk, whole or 2 % work well

2

tbsp

milk, if needed

1

large

egg
Instructions
1.Preheat oven to 400 degrees, have a cookie sheet lined with foil ready and set aside.

2.Mist a round or square casserole dish (about 9 inches) with cooking spray. Toss the veggies, cut up meatballs and gravy in the casserole dish and gently mix together.

3.In a medium mixing bowl, stir the Bisquick, milk and egg together. It's okay if the batter is a little lumpy. Try not to over mix but make sure all is combined. Pour over the meatballs and vegetables. Gently smooth around to make as even as possible. Place baking dish onto prepared baking sheet.

4.Bake for about 30 minutes or until you see bubbling and the crust is golden brown.

5.When you take out, let cool for only about 5 minutes on a cooling rack.With a large serving spoon, plate up and enjoy this hearty, delicious meal. I served this with a salad and fresh homemade raspberry iced tea, a favorite from the south. Also, a simple recipe.
Thanks for stopping by! Be sure to check back often. There's new recipes going up all the time. For now, please share with family and friends and pin on Pinterest to save for later on.