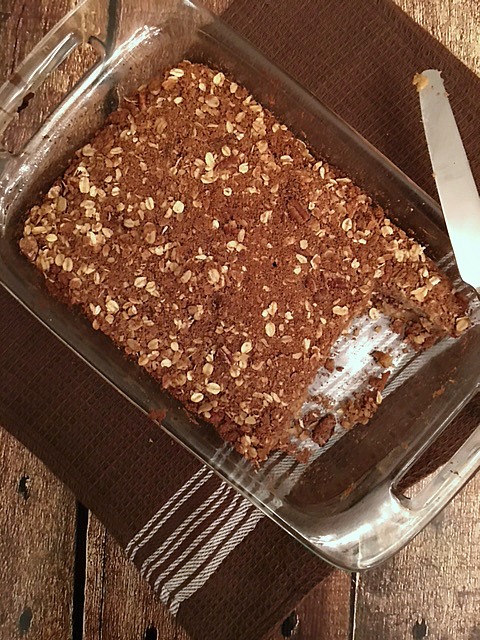 This is one of my favorite recipes of all times. As much as I love chocolate, cinnamon crumb cake has to take the lead. You will never know that this cake is vegan and gluten free. A winner of a cake. Taste for yourself.
Most Delicious Cinnamon Crumb Cake -Gluten Free and Vegan
Servings 9 to 12 pieces
Ingredients:
Topping
1/2 cup rolled oats
1/3 cup maple sugar, coconut or brown sugar will work too.
1/4 cup coconut flour plus 1 heaping tbsp.
1 tbsp. plus 1/4 tsp ground cinnamon
1/4 tsp fine sea salt
2 1/2 tbsp. softed coconut oil, not melted, or vegan butter
1/2 cup chopped pecans or any nut of choice
Cake
1 heaping tbsp ground flax meal mixed with 4 tbsp. water. Let sit for 5 minutes
1/2 cup unsweetened applesauce, I used baby food applesauce for smoother texture
1/2 tsp apple cider vinegar
1 cup unsweetened vegan milk, I used almond milk
1/3 cup coconut oil, melted and cooled, or use canola or grapeseed oil
1 1/2 tsp. vanilla extract
3/4 tsp. lemon extract, optional
1/3 cup maple sugar,coconut, or brown sugar can be used too
1 small packet all natural organic Sweet Leaf Stevia
1/2 tsp ground cinnamon
2 cups all purpose gluten free flour with xanthan gum already in the mix, I used Bobs 1 to 1 gluten free baking flour. If you use a flour blend without xanthan gum, add 1 1/4 tsp. to mix.
1 tbsp. baking powder
1/4 tsp. baking soda
1/2 tsp. fine sea salt
Directions:
Preheat oven to 340 degrees, spray an 8 X 8 or a small rectangle glass pan approximately 7 X 11. Set aside until ready to fill.
To make the topping, in a small to medium mixing bowl add all dry crumb topping ingredients and toss with a whisk, then add the softened coconut oil. Mix with your fingers until you have a crumbly texture. Add nuts if using. Set aside.
In a large mixing bowl, mix all the dry ingredients, using a whisk, mix well to sift and get any lumps out. Set aside while getting the wet ingredients ready.
In a medium mixing bowl, mix the prepared flax along with all the other wet ingredients. Combine completely.
Pour the wet into the dry ingredients and mix gently until all is combined. Dig down to make sure no dry mix is on the bottom. Try not to over mix the batter.
Pour half of the batter into prepared pan. Spread evenly, sprinkle half of the topping mixture. Dollop the remaining batter then top with remaining topping. Gently press down on the topping.
Bake for 30 to 37 minutes or until golden brown and toothpick comes out clean or with dry crumbs.
Let cool at least 30 minutes. Slice up and ENJOY!