Pineapple Upside Down Cake
This is the most delicious and moist cake you will bite into. A lightened up version of the ever popular Pineapple Upside Down Cake. Made simply with a cake mix. Enjoy every pineapple bite!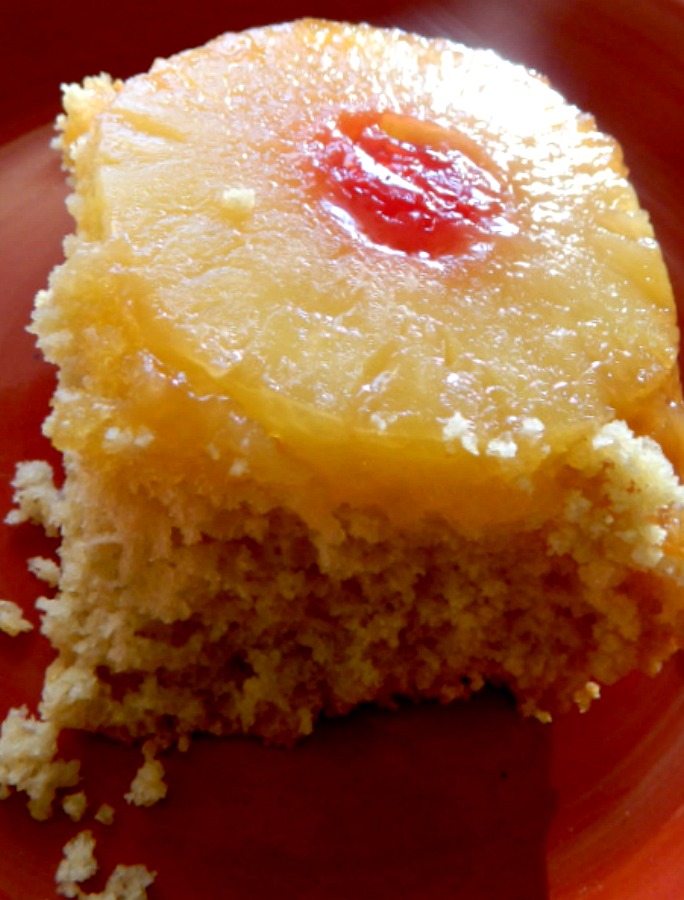 This cake is so light and moist. It's easy to make and I think it will be a big hit. It looks so pretty and tastes as good as it looks! You'll never know it's a lighter version of pineapple upside down cake. It looks the same and really tastes amazing. I just swapped a few lighter ingredients without taking away the flavor and texture.
Pineapple Upside Down Cake
Yields: 12 large pieces of cake
Calories 254
What you'll need to make this pineapple upside down cake…

Ingredients:
Cake:
1 package yellow cake mix
1 cup orange/ tangerine seltzer (you can use plain or even any kind of soda like sprite, orange, soda will make the cake sweeter)
jar baby food applesauce (4 ounce jar)
3 tbsp vegetable or coconut oil
3 tsp baking powder
1 tsp vanilla extract
1/4 tsp coconut extract (optional)
12 pineapple rings packed in juice, drained and blotted on a paper towel
1 tbsp pineapple juice from the can of pineapple rings
12 maraschino cherries (drained and blotted dry)
Glaze:
4 tbsp butter
1/2 cup packed brown sugar
Here's how to make your own pineapple upside down cake…

Directions:
Preheat oven to 350 degrees and have a 13 x 9 non stick baking pan that has been sprayed with cooking spray ready.
To make the glaze: In a microwave safe bowl melt butter for about 15 seconds. Add the brown sugar and mix well. Pour this mixture evenly on the bottom of the baking pan. You can spread with a rubber spatula.
Lay the drained and blotted pineapple rings over the glaze. You will be able to fit 12 nicely. Place a cherry in the center of each pineapple ring.
Set the pan aside until the batter is ready.
To make the batter: In a large bowl combine the cake mix, apple sauce, oil, seltzer, baking powder. vanilla extract, coconut extract (optional) and pineapple juice. You can use a hand held mixer or mix by hand until smooth. Let batter sit for 5 minutes. After 5 minutes, stir by hand once or twice and then pour over the pineapples. Use a rubber spatula to even out the batter.
Bake for about 35- 40 minutes until cake is light to medium brown. Half way through baking, turn the pan around and tap once in the oven. This will help make sure the middle will set up. A wooden skewer or wooden toothpick should come out clean, when ready.
Allow the cake to cool for at least 20-30 minutes. It will still be slightly warm. Take a serving plate or cookie sheet that is larger than the baking pan and place over the pan. Carefully flip over. Gently lift the pan to release the cake. If a slice of pineapple is still in the pan put it on the cake (no one will ever know). It will look beautiful!
Enjoy the deliciousness! 🍍
🍒🍒🍒🍒🍒🍒
Thanks for stopping by. I hope you like today's featured recipe for pineapple upside down cake. It's really old but, always a big hit with family and friends. You can save this recipe along with any of your favorite recipes by pinning them on Pinterest. It's a great way of collecting and saving recipes for later on. Please stop back again soon. There's so many more recipes to see both sweet and savory.
Bye for now… 💕