Paleo and Vegan Coconut Almond Cookies – A perfect little cookie that's decadent yet made with healthy ingredients. Enjoy the healthy goodness!
These cookies taste very rich; one mini cookie is satisfying enough, especially with some fresh fruit. They were a big hit at our last Skinny Sweets Daily meeting. Even my husband, who was reluctant to try them, said they were very rich and buttery (don't worry; there is no butter in the recipe). I loved using the coconut oil. The smell alone is divine.
Mini Paleo Vegan Coconut Almond Cookies
Yields: 17 mini but rich tasting cookies
Nutrition: calories 59.9, fat 4.3 g, carbs 5.8 g, fiber 0.9 g, sugar 4.3 g, sodium 1.5 mg, protein 1.4 g
Ingredients:
1 cup almond flour
1/8 cup unsweetened shredded coconut
1/4 – 1/2 cup good quality honey
1 to 2 tbsp unrefined coconut oil— melted
1/2 tsp vanilla extract and 1/4 tsp almond extract optional
1 tsp fresh lemon juice
Zest of a half orange
Zest of a half lemon
Pinch of sea salt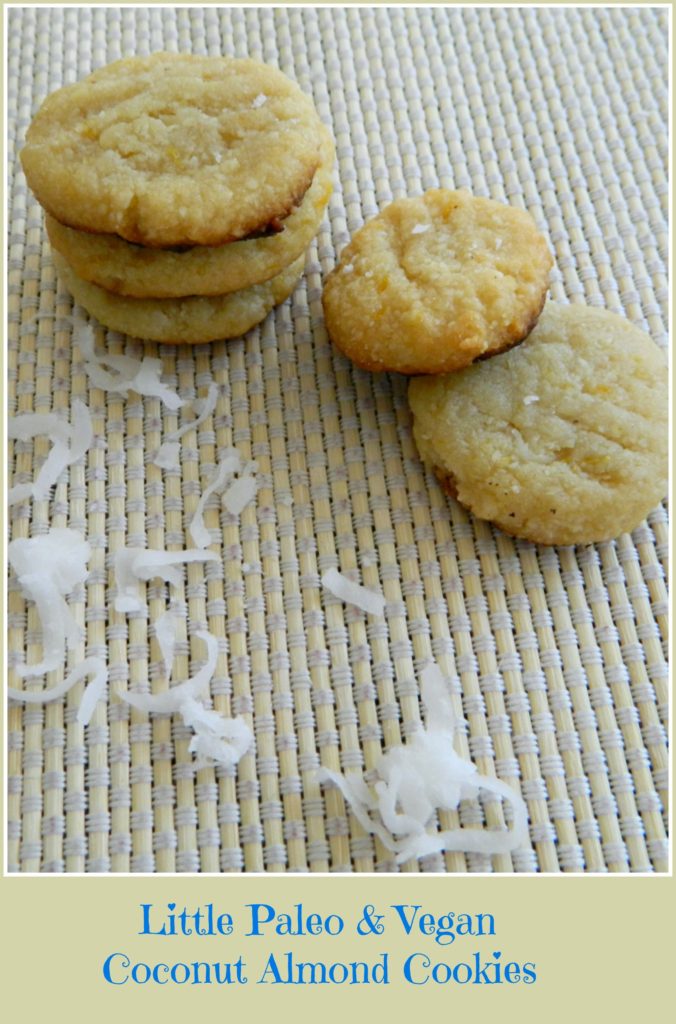 Directions:
Preheat oven to 325 degrees; prepared a cookie sheet lined with parchment paper by lightly mist the paper with cooking spray. Set aside until ready to use.
Whisk the almond flour and shredded coconut together in a medium mixing bowl.
Add the rest of the ingredients mix until combined with a rubber spatula. Make sure you get all the dry ingredients from the bottom incorporated into the mix.
Roll into 17 little balls and place on the cookie sheet. Press down lightly with your palm, or you can use the tines of a fork. These cookies will not spread or puff up.
Bake for about 8 to 10 minutes. Turn the pan around after 4 minutes.
The bottoms will get slightly golden. Don't over bake these. They will still be light on top when ready. Let cool completely.
Enjoy the healthy goodness!