Blueberry Crumble Baked In A Jar
Everyone is going to love this simple to make blueberry crumble baked in a jar that's bursting with fresh blueberries. A showstopper of a dessert!
These blueberry crumble desserts are a snap to put together and come out tasting totally delicious.
Looks so pretty served right in it's own little mason jar.
I'm really loving baking desserts like this. Everyone has their individual dessert that can be served just as is, with a big scoop of vanilla ice cream or a dollop of whipped cream.
Served warm, room temperature, or cold from the fridge.
These delicious gems are the perfect fruit dessert crumble.
You can change around the berry anytime especially if you find one type of berry at it's lowest price in the market on the day you are going to bake these beauties up.
Pop the top on and take along as the most wonderful potluck dessert at your potluck dinner.
Just bring along either vanilla ice cream or some whipped topping, or whipped cream from the can to top each one off.
Great for picnics too. When you place the tops on they become a portable dessert.
You can save the mason jars or toss them. Mason jars are pretty inexpensive to buy in crafts stores and online. Walmart even has them in bulk. My kids like when I make no cook overnight oats in them. I love my high protein no bake chocolate protein cheesecake, it's like a decadent chocolate cheesecake that's loaded with protein and you can have it for breakfast or dessert!
Second best thing about these berry crumbles after the first being they taste so delicious, I like that each one is portioned out for the perfect individual serving.
I feel you can have a dessert in moderation and this way there's no grabbing for another piece.
Click below and give these yummy blueberry crumble's a try.
They are so good, I promise!
Blueberry Crumble Baked In A Jar
Yields: 4 individual servings

Here's what you'll need…
Ingredients:
3 1/4 cups fresh blueberries
1/3 cup light brown sugar
1 1/2 cup old-fashioned oats
1 cup pecans, chopped
1 1/2 tbsp all-purpose flour
6 tbsp cold unsalted butter cut into cubes
1/8 tsp fine sea or kosher salt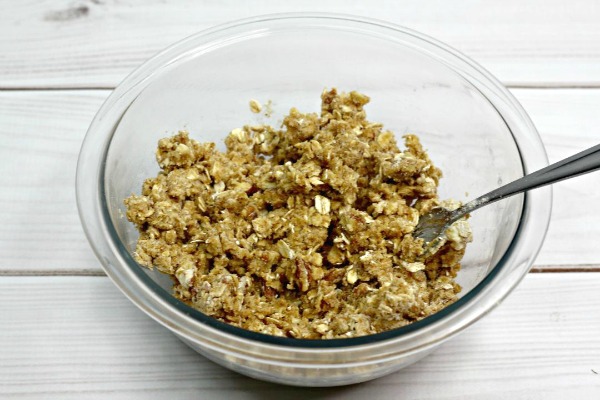 Perfection!
Here's how they're made…
Directions:
*All highlighted products are ones I use often, they are only a suggestion.